As I've surely hammered into your brain by now, Bloody Disgusting Selects released

The Woman

onto DVD & Blu-ray here in the states this past Tuesday, the 24th. Over in the UK, Revolver Entertainment released the film way back in October of last year, a good three months before we got it. If that's not reason enough to go Region Free, I just don't know what is!

Anyway, in this installment of the ever popular competition

Cover Art Wars

, we pit the US & UK home video arts for

The Woman

against one another in a bloody battle to the death. Check them out below and then leave a comment letting me know which art you prefer!


UNITED STATES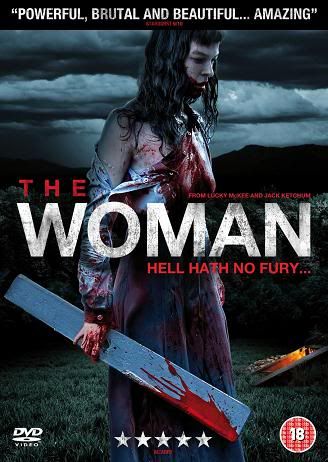 UNITED KINGDOM



Though I do dig the toned down US art, which looks like a painting of sorts, I've personally gotta go UK on this one. Even though the UK art does kinda sorta spoil the outcome of the movie, I absolutely love the empowered imagery of a blood soaked Pollyanna McIntosh holding a bloody lawn mower blade, perhaps the ultimate 'male' tool. Sexy, fierce and badass, this image almost demands you pick the movie up and take it to the checkout counter. The only thing I don't really care for is the big quote blurb up top, which cuts Pollyanna's head off. UK releases tend to have art that's a bit crowded with website/magazine quotes, which can kinda get annoying, but I suppose it's a minor complaint. This art was also used for the badass vinyl soundtrack that Moderncine released here in the US.

What say you? Leave a comment with which art you'd rather have in your DVD collection!