Artist/Freddy In Space friend Krystal Beck is without question the ultimate

Chainsaw

fan. Why do I say this? Well, in addition to having a house chock full of all kinds of related memorabilia, Krystal made the trek out to Texas last year to see the movie outside of the iconic house where it was filmed, and in fact even ate dinner in the house prior (it's now a BBQ restaurant!). While in Texas, she also managed to scoop up a bunch of dirt from the filming locales, which was included in limited edition t-shirt packages from Fright Rags last year. In addition, she dressed up as The Hitchhiker for Halloween a couple years back (seen above), a character that she has a fairly serious obsession with. Which brings us to her latest and perhaps most ultimate display of affection towards the film, a unique one of a kind tattoo that is unlike any other

Chainsaw

tattoo you have ever seen.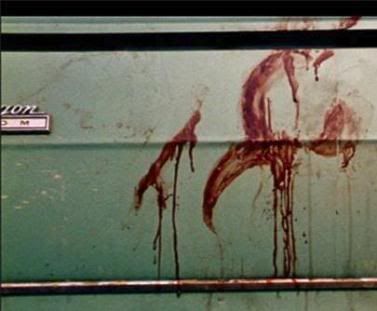 Remember in the movie when The Hitchhiker cuts his own hand and then smears blood all over the side of Sally and the gang's van, after they kick him out? He makes a pretty interesting design with his blood, which many fans over the years have speculated on the meaning of. It's this imagery which Krystal decided to recently get tattooed on her side, instead of the usual image of Leatherface or a chainsaw. Check out the fresh ink!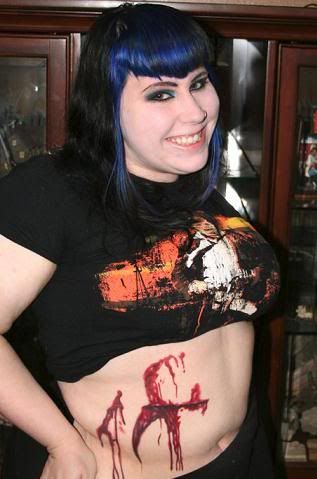 How cool is that?! If you're still not convinced that she's the ultimate

Chainsaw

queen, then I guess I should tell you that she eats head cheese every morning for breakfast, cut up and tossed into her cereal.* She's not fucking around with this stuff, believe you me.

Be sure to show your support for Krystal's awesomeness by heading over to her Etsy shop The Zombified, where you can pick up, what else, a limited edition

Texas Chainsaw Massacre

poster print that she drew. Go figure!!



*Ok so that last bit was made up but still, I challenge you to find a more hardcore fan of the film!*