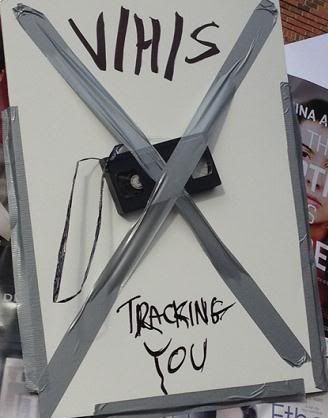 Perhaps the biggest genre hit of this year's Sundance (Jan. 19th-29th) thus far has been

V/H/S

, a found footage anthology put together by Bloody Digusting founder Brad Miska that's comprised of five films directed by up and coming names within the genre, including

House of the Devil

's Ti West. The film has been getting pretty much rave reviews across the board, garnering serious press for pulling off the same impressive feat that

The Woman

did at Sundance last year; making a dude at a screening pass right the fuck out.

Hot off the heels of that exciting news blip came the news today that

V/H/S

has been picked up by Magnolia Pictures for distribution, who will be releasing it under their Magnet label, a label that has been attached to some of the better genre films in recent years, titles like

Tucker & Dale vs Evil

,

Hobo With a Shotgun

and the aforementioned

House of the Devil

. The plan is to give the film Magnet's patented pre-theatrical Video on Demand release sometime this year, with a limited theatrical release to follow 30 days later.

So, with all that established, what exactly is

V/H/S

and what can we expect from it? You could spend a good portion of your night prowling around Google to find out all the details but I'd rather just do that work for you and combine it all in a nice and easy quick read. That's what I'm here for.

So below you'll find everything you need to know about

V/H/S

, everything except any kind of spoilers that will ruin the experience for you. Cause I'm cool like that. Also peppered throughout the post are all the still photos from the movie that have been released thus far.

Without further yapping, we begin at the beginning, with the official plot synopsis ...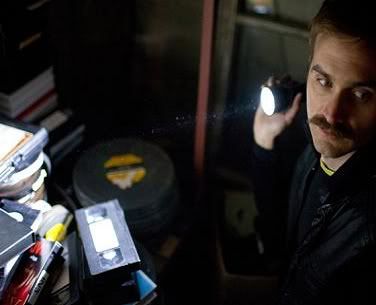 When a group of misfits is hired by an unknown third party to burglarize a desolate house and acquire a rare VHS tape, they discover more found footage than they bargained for.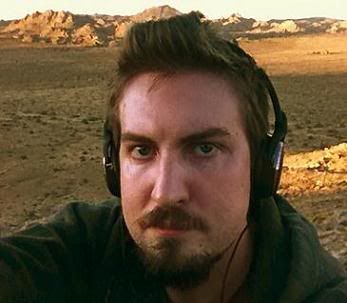 This is the wraparound story that ties all five short stories together. Directed by

Horrible Way To Die

's Adam Wingard (above), the wraparound (titled

Tape 56

) sees the group entering the home and discovering a treasure trove of VHS tapes, unsure which one is the one they've been tasked with taking. In order to determine that information, they decide to watch all of the tapes in the house, which is how the five short films are presented to us. What we see is what they see, with the individual segments showing us what's on the various fucked up tapes in this strange house.

Here is some information about each segment, along with pictures of the directors as well as brief plot details.






Amateur Night

- Directed by David Bruckner

The basic idea of this one is that a group of college kids head out for a night on the town, one of them sporting a pair of camera equipped spy glasses, which capture all the action. They pick up a couple of chicks and bring them back to their hotel, intent on filming a homemade porno of sorts with them. Unfortunately for them, the girls aren't exactly what they appear to be.

Amateur Night

was directed by David Bruckner, who was one of the directors of 2007's

The Signal

. It was during this segment that a man passed out earlier this week at Sundance.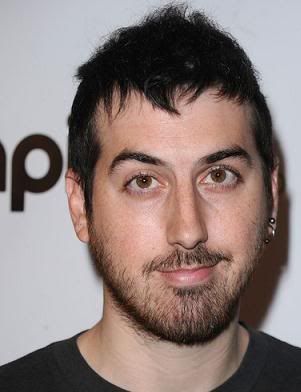 Second Honeymoon

- Directed by Ti West

The most recognizable name of the bunch, Ti West previously directed

House of the Devil

& the recently released

Innkeepers

. With

Second Honeymoon

he delivers what is being called another slow burn tension filled mini masterpiece, which sees a couple road tripping through the Grand Canyon. While staying at a hotel one night, they receive a knock at their door from a strange woman ...






Tuesday The 17th

- Directed by Glenn McQuaid



I Sell The Dead

director Glenn McQuaid helms this found footage slasher tale, the story of a young girl who takes some of her friends out to the woods. As expected, bad things begin to happen. But everything is not what it seems, as McQuaid turns convention on its head.






The Strange Thing That Happened To Emily When She Was Younger

- Directed by Joe Swanberg

A Skype chat goes horribly wrong when paranormal things began to happen on one end of the video conversation in this short directed by Joe Swanberg, whose only real recognizable credits to genre fans include acting gigs in two films made by two of the other directors of

V/H/S

;

A Horrible Way To Die

&

Cabin Fever 2

. This haunted foray into the world of Skype was written by Simon Barrett, who previously wrote one of the better Syfy creature features out there,

Frankenfish

.






10/31/98

- Directed by Radio Silence

I know little to nothing about Radio Silence, but apparently they're a group of guys who have become known for their videos over on YouTube. Set on Halloween night in 1998, their debut film is about a group of buddies going out to a Halloween party, where they end up in a fight for their lives.




And that's about everything you need to know about the film. To tell you any more that I've read would spoil some things and I really wouldn't want to do that.

The guys that comprise Radio Silence describe

V/H/S

as being

"a found footage movie for people that are over found footage"

, which sounds like music to my ears. According to every single review I've read thus far, the film injects new life into the dying found footage sub-genre, providing several creative new means of pulling such a film off and coming jam packed with copious amounts of horror, humor, gore and monsters. Sounds like this one has a little something for everyone and with such talented indie filmmakers at the helm, I wouldn't expect any less. I love me a good anthology and

V/H/S

looks to be the next great horror anthology to keep an eye on.




Once the film is available On Demand, I'll let ya know about it and I'll of course share my thoughts once I check it out!