Tomorrow is the first of three Friday the 13th's this year, the next two taking place in April & July. While it's treated as any old day for most, Friday the 13th is pretty much a national holiday for us horror fans, with horror oriented companies often doing special little things to celebrate. Here are three such celebrations that you can take part of tomorrow from the comfort of your own home, in between

sipping

chugging Crystal Lake Wine and taking in the sights and sounds of Jason Voorhees slashing up sex crazed teenagers beyond all recognition!

No Firefox spell checker, I will not change Voorhees to Moorhens, no matter how many times you underline it in red.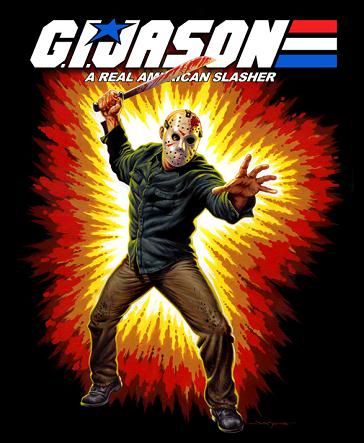 Posted about this one last week but just as a reminder, Jason Edmiston's epic mashup between GI Joe and Jason Moorhens will be available over on Fright Rags starting at midnight tonight. It'll be selling for $25.95 for the shirt and $45.95 for the hoodie and will only be available through the weekend, so hop on this one while you've got the chance. Unless of course you're a total philistine and you're not into both GI Joe and Jason, in which case I recommend you leave my sight at once.




Also releasing tomorrow is La-La Land Records' epic

Friday The 13th

CD soundtrack set, which includes the soundtracks for

Friday 1980

through

Jason Lives

. Limited to only 1,300 units, the set is jam packed with over 5 hours of remastered tracks, some of which have never been released and others which were created specifically for this release. Also included is a 40 page booklet about the music and its composer, Harry Manfredini. The epic set will begin selling at 1pm PST on La-La's website and will go for $69.98. You can keep the other two pennies.




And last but certainly not least, take a break from buying cool shit for yourself to donate to those who need more important things by heading over to the horror community's charity organization Scares That Care and donating a mere $5, in honor of their Friday the 13th $5 donation day. All money donated to the organization goes directly to those who need it, so they ask you to please consider sending a mere $5 their way to help out some people who could really use the help. Each donation you make also enters you into a giveaway to win all kinds of cool prizes, including a hockey mask signed by Derek Mears & passes to various horror conventions, so it's a win-win for all. You can donate over at the event page Scares That Care set up for the 24 hour fundraiser.

Just about $100 to nab yourself a kickass shirt, surround yourself for years to come with the sounds of Crystal Lake and help out some folks in need ... sounds to me like tomorrow's gonna be a pretty awesome day!!