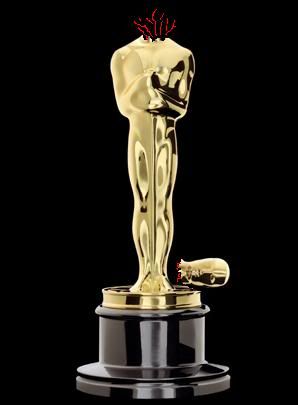 With the 84th annual Academy Awards just over a week away, a lot of love is being spread around to the Hollywood stars and starlets who have received nominations this year. Tonight, I want to share some of that love with the actors & actresses who never get any real mainstream love for their work; the ones whose resumes mostly consist of horror films. It's no secret that horror movies get little respect in the world of cinema, and that is never more evident than it is at the Oscars, where very rarely do horror movies ever win accolades or even receive nominations (

The Silence Of The Lambs

being one of the rare notable exceptions). It's a damn shame, though it's not hard to figure out why an inspiring film about a kid moving on after his dad dies on 9/11 gets a nomination while something violent and confrontational like

The Woman

does not. Just the way it goes.

Tonight, I wanted to ramble on a bit about some of my favorite horror movie performances, all of which would receive Oscar nods in a perfect world, a world where horror gets as much respect as sappy drama. Keep in mind that this is by no means a comprehensive list of all the best performances in horror movies, it's just eleven that immediately come to mind for me as favorites. And they're not in any specific order. In fact, I haven't even compiled the list in advance, I'm just kinda gonna come up with it as I go along here writing this post. That's just how I roll.

On with the list. Feel free to add your picks to it in the comments section below!




BRUCE CAMPBELL - SEBASTIAN HAFF/ELVIS -

BUBBA HO-TEP



Though a God among men as far as horror fans are concerned, Bruce Campbell has never exactly been revered for his acting talent. It's the utter coolness and subsequent sex appeal that 'The Chin' exudes from every pore that has made him such a pop culture icon. But as a man who is either a delusional Elvis fan or Elvis himself in

Bubba Ho-Tep

, Bruce shows that he's got some serious acting chops, as he delivers what is in my humble opinion the performance of his career. While most may say Ash was the role he was born to play, I'm more inclined to say that Bruce was born to play an old dude in an old folks home who may or may not be Elvis Aaron Presley. The role gave Campbell the ability to flex his comedic wit as well as a less often seen capacity to tug at the heartstrings of horror fans, and he does both better than I honestly could've ever expected him to. Just seems rather fitting that he excel as playing a godlike King, does it not? Hail to him, baby.




BILL MOSELEY - OTIS -

THE DEVIL'S REJECTS



Ah, Bill Moseley. I've always considered his career to be a bit cursed, in a way. Moseley is one of the better actors working within the confines of the genre, and he's unfortunately never really gotten to show off his stuff in anything more mainstream. Or maybe he just doesn't want to. All I know is that the fact that he only really does horror films has hurt Moseley a bit, at least in terms of being an actor, because let's face it, there aren't that many well written characters out there for the taking at any given time in the world of horror. Most filmmakers just throw Moseley into their shitty movies because they want his name attached to it, which they know will draw in his fans. And Moseley always seems to be happy to oblige. While that's really cool on the one hand, it has on the other hand resulted in a supremely talented actor appearing in far too many terrible horror movies.

Though he's great in

House Of 1000 Corpses

, it wasn't until

The Devil's Rejects

that Moseley really got to shine as Otis, a dare I say loveable serial killer with a penchant for sleeping with dead chicks and cutting off dude's faces. Moseley delivers an absolute tour de force of depravity, eliciting feelings out of the audience that few big screen killers ever have, or perhaps even have any right to. Whether he's scaring the shit out of us by raping a chick with a gun, making us laugh with ice cream smeared on his nose or damn near making us cry when he realizes he and his family have reached the end of the road, Moseley is on top of his game in

Rejects

, turning a cold-hearted killer into a surprisingly likeable guy.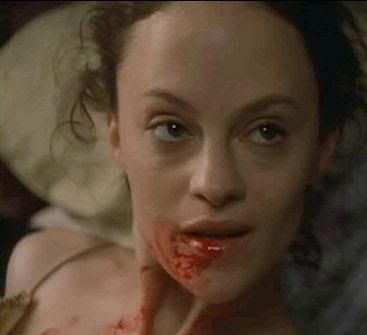 ANGELA BETTIS - MAY -

MAY



The first time I saw

May

, I absolutely fell in love with Angela Bettis, a love that grows each and every time I go back and revisit the film. Bettis is another one of those genre actors that is underrated, never really breaking into the mainstream and lending her talents to a few too many movies she is far better than (*cough*

Scar 3D

*cough*). Bettis is one of the more precious and adorable actresses out there and she brings every bit of that cute appeal to her performance as May Dove Canady, a sort of Dr. Frankenstein-esque character that is as cute when she's cutting up and stitching people together as she is when she's trying to look cool while smoking a cigarette.

May

is one of my absolute favorite horror movies of all time, with my love for it largely a result of how perfectly Bettis captured the awkward chick who desperately wants the perfect companion. Love this character, so so much.




ROBERT ENGLUND - FREDDY KRUEGER -

A NIGHTMARE ON ELM STREET

(ALL OF THEM)

It's possible that Robert Englund is single-handedly the man who ushered me into a lifelong love of horror cinema. Childhood exposure to the

Elm Street

films are some the earliest and best memories I have of the genre, and my love for that franchise is all thanks to the character of Freddy Krueger, brought to life by a man who unfortunately hasn't gotten all that many opportunities to really shine throughout his career. It may surprise some to find out that Englund is a classically trained actor, and it is in my opinion this schooling and talent behind the makeup and glove that has made Freddy Krueger such an icon in both the world of horror and popular culture at large. While horror villains generally just serve to quickly and quietly knock off teens, Englund's talents turned the writing on the page into one of the most charismatic and entertaining movie characters of all time, single-handedly building both the franchise and New Line Cinema, the studio that put out the movies. Without the strength of his performance in the first

Elm Street

, it's unlikely that the film ever would've spawned any sequels. For that, we are all forever indebted to the man.

If ya ask me, Englund has never really gotten the credit he deserves for what he created with Freddy. Sure, us horror fans love and appreciate him endlessly, but what he did in those seven films is worthy of a Lifetime Achievement Award at the Oscars, as far as I'm concerned. Dude deserves more than a Scream Award, that's all I'm saying.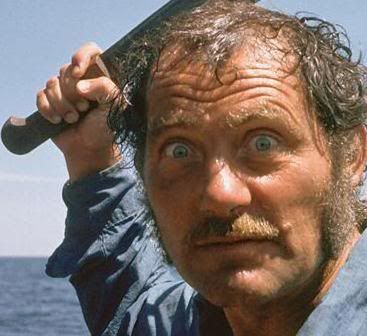 ROBERT SHAW - SAM QUINT -

JAWS



It's hard to imagine that Robert Shaw was not the first choice to play Quint in Spielberg's finned epic. In fact, it wasn't until Sterling Hayden ran into some tax troubles that Shaw was even brought on board the Orca. Talk about happenstance! The reason this is such a surprise is because the way Shaw plays the part, it seems like it was tailor written for him and only him. Believe it or not I have actually never seen a single movie other than

Jaws

that Shaw has appeared in, which I'm really kinda thankful for. Why? Because he plays Quint with such conviction that I have always chosen to believe that the late Shaw was in fact that grizzled shark hunting character in real life too. Watching him play any character would tarnish that belief, so I think I'll go on believing this silliness. I truly believe Shaw was on the USS Indianapolis. And I truly believe he was an expert shark wrangler. That's the real mark of a strong performance, is it not?




MICHAEL PARKS - ABIN COOPER -

RED STATE



The effectiveness of Kevin Smith's first horror film,

Red State

, largely rests on the shoulders of veteran actor Michael Parks. The longtime TV and film star has become a frequent collaborator with Quentin Tarantino & Robert Rodriguez in recent years, who have given him a career revival of sorts. Kevin Smith jumped on the Parks bandwagon with

Red State

, bringing him on board to play Abin Cooper, a batshit crazy homophobic pastor who leads his followers to kill in the name of Jesus Christ. Channeling the mad spirit of Charles Manson, Parks brings the pastor to life in terrifying fashion, delivering incredible monologues, dancing wildly and chillingly ordering the executions of anyone who opposes his extremist beliefs, with sheer and utter conviction every step of the way. My dad is a lifelong fan of Parks', always singing his praises, and after seeing

Red State

I finally fell in love with him for myself. Had the subject matter not been so grim and dark, I firmly believe that Parks would have received an Oscar nod for his performance. One need only watch his nearly 10 minute monologue early on in the movie to see what I'm talking about.




NATHAN BAESEL - LESLIE VERNON -

BEHIND THE MASK : THE RISE OF LESLIE VERNON



Though I believe that

Behind The Mask

is appreciated by less people than it should be appreciated by, there's no questioning that there is a whole lot of love within the community for the movie. And if you ask any one of its uber fans what they love about it so much, they'll likely tell you that it is the character of Leslie Vernon that draws them to the movie, a seemingly normal dude who takes us behind the scenes to show us what it's truly like to be a horror movie killer. Brought to life by Nathan Baesel, who made his film debut in the movie, Vernon is one of the most charismatic and likeable guys in recent horror history, a fact that remains even when he's tearing teens apart with his trusty scythe. One minute he's making you laugh and the next he's making you realize he's not fucking around about this killing people business, all the while managing to make the girls want to date him and the guys want to go out and grab a beer with him. He's just so damn suave.



Behind The Mask

is one of the most brilliant horror films in the last decade, deconstructing the genre in masterfully clever fashion, and it's the hugely entertaining performance of Baesel that a large amount of the film's success hinges on.

Did I ever mention that the prequel/sequel needs your help, or else it won't get made? Oh that's right, I already did 137 times in the past.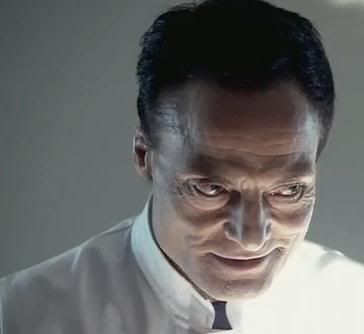 DIETER LASER - DR. HEITER -

THE HUMAN CENTIPEDE



This is another one of those performances that I totally buy on every level. Hell, after the first time I saw

Human Centipede

, I was pretty damn convinced that Dieter Laser and Dr. Heiter were actually one in the same. And I was quite frankly shocked to soon thereafter get this reply from

Centipede

star Ashley C. Williams when I asked her if Laser was that scary in real life;

"He is the nicest man ever"

. Though the subject matter of the film could've easily been handled in a goofy and unrealistic fashion, it's the frightening conviction that Laser brings to the part that really puts the disturbing meter off the charts, turning a potentially humorous idea into a genuinely terrifying horror film. The curse of Laser's incredible performance is that I don't think I'll ever be able to watch any of his movies in the future and not think of him as the mad Dr. Heiter. And no matter how many people meet him and tell me he's really a nice dude, I will forever be afraid of him.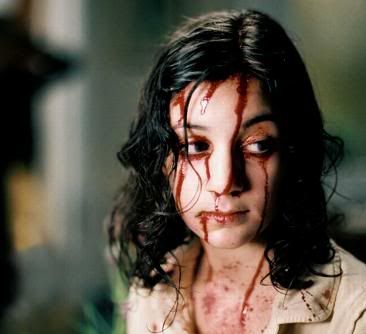 LINA LEANDERSSON - ELI -

LET THE RIGHT ONE IN



I was fairly surprised when

Let The Right One In

as a whole didn't get nominated for an Oscar in the Best Foreign Film category. Major snub, if you're asking me. As far as the acting in the film goes, then 13 year old Leandersson's performance as the vampire Eli is totally Oscar worthy as well. Playing a child vampire is by no means an easy task, as you essentially have to come off as being innocent and young as well as old and wise, at the very same time. Though she had never appeared in anything prior to

Let The Right One In

, Leandersson impeccably portrayed the role, delivering a performance you'd expect from somebody much older and with a whole heck of a lot more experience. The scene where she tells her young human lover to "

Be me

", while blood is dripping from her head and body, is a particularly impressive moment that showcases the power she exudes in the role. Thankfully for Eli, Oskar is the only Oscar she needs. Awww, isn't that sweet?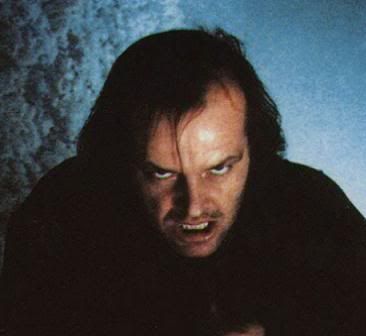 JACK NICHOLSON - JACK TORRANCE -

THE SHINING



OK so this pick is a bit different than most of the others, as Nicholson is obviously well respected in the mainstream for his acting talents. And though the Kubrick directed

Shining

is also well respected as more than just the typical 'horror film', your mind might be boggled to learn that Nicholson did not receive an Oscar nomination the year of its release for his iconic performance as Jack Torrance, a family man slowly driven mad by an ominous hotel. Nicholson's performance has all the strength of other performances that did earn him both Oscar nominations and wins, and what we have again there is simply a case of the Academy not wanting to recognize films where characters wield axes and try to kill their children. It's hard to imagine

The Shining

with anyone other than Nicholson slamming that axe through the bathroom door and I can't help but feel like a large degree of the power the film holds would've been lost if any of the original choices ended up playing the part (Robin Williams, Harrison Ford). Nicholson always brings a certain crazed quality to his roles, which is amped up to maximum levels of madness as Jack Torrance. Torrance's descent is totally believable and once he does finally snap, my god is Nicholson's performance terrifying. Him not being nominated for Best Actor for the performance is in my opinion one of the biggest Oscar snubs of all time.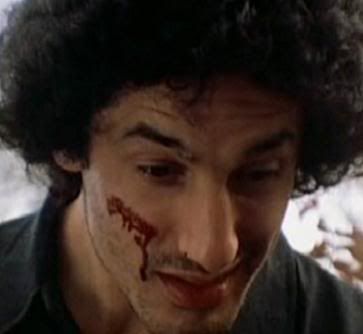 DAVID HESS - KRUG STILLO -

THE LAST HOUSE ON THE LEFT



The late David Hess is another guy that always genuinely scared me, before I ended up chatting with him and finding out that he was really a sweet guy behind all that cinematic rape and butchery. Hess made a career out of being a sleazy psychopath, a career which began in 1972 with

The Last House On The Left

. The creep factor of the film heavily relies on the fact that what we're watching feels so raw and real, and David Hess feels about as real as a cinematic killer could ever feel as Krug Stillo, the leader of a gang of murderous rapists. I remember in an interview Hess stated that after the movie came out, people were genuinely afraid of him, moving away from him when they saw him on the subway, and it's easy to see why. Had I not known any better, I'd still believe that Hess was as sleazy and as dangerous as the savage Krug. A true mark of a truly powerful performance.
___________________________________________

Again, feel free to leave comments with your thoughts on my picks and/or add your own personal picks to the mix. Let's get some discussion going here, folks!