Remember those

Trick 'r Treat

pillows I posted about last year, made in the likeness of the loveable pumpkin boy Sam? Well Jennifer Hall, owner of handmade shop Freaky Deekys, is at it again, this time with a line of pillows inspired by

The Evil Dead

's infamous Book of The Dead, the only book on the planet inked in blood and bound in human skin. Could there possibly be anything more comfortable to lay your head on than a book covered in your fellow man's flesh? I thought not.

Check out Freaky Deekys' Necromonicon pillows, one based on the original

Evil Dead

1 & 2 design and the other based on the upgraded look the book took (see what I did there?) in

Army of Darkness

!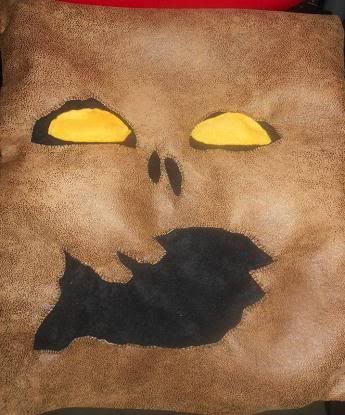 Both pillows will be for sale at this March's Monster Mania. If you're not gonna be there, head over to the Freaky Deekys Facebook page and let Jen know Freddy In Space sent ya and you want one!!