By now you've probably heard a thing or two about

Holliston

, an upcoming television series being put out by FEARnet. But what exactly is

Holliston

, where and when can you see it & what's it about? Tonight I answer all those questions and other questions you didn't even know you wanted the answers to, as I fill you in on everything you need to know about what is looking to be one of the best things to happen to horror in 2012 ...

HOLLISTON

!

First thing's first. Before we even get into what the show is about, let's talk about how you can see it once it premieres on FEARnet come Tuesday, April 3rd. It may seem like I'm starting at the end here, but this is mucho importanto information and without knowing how you can go about catching the show, you'll likely end up missing it. So pay attention!




You probably know FEARnet, the website, but did you know that FEARnet is also a television station, as of just a couple years back? It is on this station, NOT ON THE WEBSITE, that

Holliston

will be airing starting April 3rd. It's all horror all the time over on FEARnet, a channel that devotes every time slot of its programming schedule to horror movies. Wondering why the hell you've never flipped past it on your TV? Well, the unfortunate thing is that not all that many cable providers carry the channel, and even the ones that do carry it require you to request it be added to your package.

Here's the most recent listing of the cable providers that do in fact carry FEARnet ...

- Verizon FiOS
- Comcast
- Time Warner Cable
- Cox Communications

From what I gather some other smaller providers do carry FEARnet On Demand, but these are the only ones I know of that carry the regular channel itself. Now the catch here is that even these providers don't all have the channel available in all outlets, so if you do watch TV through one of these companies, you're gonna have to give them a ring and see if they can add it to your television.

Now, what if your cable provider isn't listed up above? Well then, you're finding yourself in the same boat that I'm in right about now. My provider is Cablevision and they don't currently have FEARnet available, just as many providers around the country do not. So we're shit out of luck then, right? Well, not exactly.

Here's the part where we've gotta take action. We have to show our providers that we want FEARnet, or else they're never gonna give it to us. Simple as that. So what you've gotta do, if you find yourself hooked up with a provider that doesn't provide the goods, is pick up your phone and call the following number ...



877-FEAR-247



When you make this call, FEARnet will let you know whether or not their channel is available from your cable provider. If it is not, they will from there connect you directly to your provider, where it's then up to you to demand they carry the channel. No amount of begging or pleading is guaranteed to yield results, but the idea here is that if enough people call their providers demanding it, we'll soon start seeing FEARnet pop up in a lot more outlets, hopefully many before April comes around, so that the most amount of people possible can enjoy

Holliston

. So this is one of those times where we've all gotta rally together, because this is really all in our hands.

Now what happens if we don't stand up and demand the channel or if we can't get it added to our lineup even if we do? Well, then we're gonna have to wait till several months after

Holliston

premieres before we can check it out either online or on DVD/Blu-ray. I don't know about you but that bums me out, as does the fact that I currently don't have a channel I can flip on to watch horror movies whenever I damn well please.

So PLEASE PLEASE PLEASE call up FEARnet (877-FEAR-247) and DEMAND IT from your cable provider!! Go ahead, take a moment to do it right now and don't you dare read on until you do!

Alright, now that we're all caught up to speed on that whole ordeal, let's get into the show itself. First, a little rundown of what it's about and then we'll meet the cast of characters who will bring it to life.




Described as

The Big Bang Theory

meets

Evil Dead 2

(or alternatively

Wayne's World

meets

Saw

),

Holliston

is the first ever horror sitcom, based on actual events in the life of

Hatchet/Frozen

director Adam Green. But

Holliston

didn't begin its life as the

Holliston

we're about to have unleashed upon us ...

Back in 2000, before he even made

Hatchet

, Green made a super low budget film called

Coffee & Donuts

. A romantic comedy about two friends trying to launch a radio station in their hometown of Holliston, Massachusetts (where Green was actually born), the movie was bought by Disney/Touchstone, who planned to turn it into a sitcom for UPN. Obviously, the UPN deal never panned out, so there Green was a solid decade later, never being able to deliver what was at the time called

Coffee & Donuts

to his fans, either in a sitcom or movie form (due to various issues, the movie never saw official release).



Enter FEARnet, hungry to provide their viewers with original content, outside of just showing other people's movies all the time. A deal is inked between Green and FEARnet, the show is re-tooled to gear it more towards the horror crowd and it's reborn as

Holliston

; the very first original series from the channel. Voila. Click the play button above to see a faux video of the show being pitched to FEARnet!

That backstory out of the way, here's what the show is about ...




Adam Green and fellow filmmaker/BFF Joe Lynch (director of

Wrong Turn 2

/

Knights of Badassdom

) essentially play themselves in the show, or rather the themselves that they'd perhaps be if they never attained their dreams of being filmmakers. They star as Adam & Joe, two small town guys with dreams of making their own horror flicks, struggling with day to day life working at a local cable access station, where at nights they host a show called

'The Movie Crypt'

. In the words of Ariescope, Green's production company,

"the two must face their own far fetched ambitions, cope with their troubled work life, and learn how to deal with the opposite sex during that awkward period of life when nothing is working out like it was supposed to."



Aside from Green & Lynch, the show will also star a couple other familiar faces. Let's meet them!






DEE SNIDER



Yep, that's Dee Snider, the man who played a huge part in Adam Green pursuing his dreams of making horror movies (in real life). Dee plays Lance Rockett, the guys' boss at the radio station. Contrary to Dee's real life persona, Rockett is a wannabee rockstar that never quite made it. No

Twisted Sister

here; Rockett is merely the cross dressing lead singer of a

Van Halen

cover band.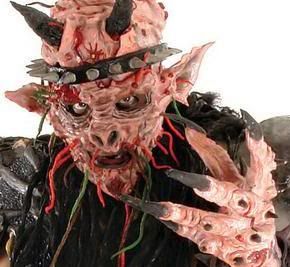 ODERUS URUNGUS





GWAR

frontman Oderus Urungus also plays an alternative version of himself; Oderus, the strange being who lives in Adam's closet.

Holliston

's answer to

Home Improvement

's Wilson, Oderus provides advice to Green whenever he needs it most. Unlike Wilson, the advice is almost always offensive and godawful.






CORRI ENGLISH



You may remember Corri English from the horror films

Unrest

&

Killer Pad

, the latter of which was directed by Robert Englund. In the show Corri plays Green's ex-girlfriend, the great heartbreak of his life that he just can't seem to get over.



This hilarious viral video hit the net earlier this week which features English in her supremely awkward (faux) audition video for the show. Give it a watch to get a feel for what you can expect from

Holliston

!






LAURA ORTIZ



Rounding out the core cast is Laura Catalina Ortiz, who played the preciously deformed Ruby in the kickass

Hills Have Eyes

remake (and who was super awesome enough to sit down for an interview with little old me waaaaayyy back in 2008). Laura plays the current girlfriend of Joe Lynch's character.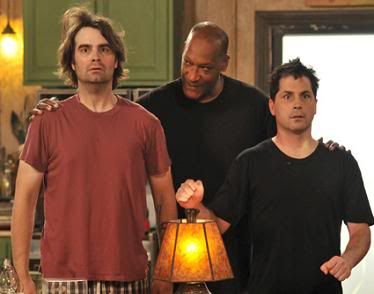 Speaking of familiar faces, several guest stars for the six episode season 1 run have already been announced, including genre legends the likes of Tony Todd, Kane Hodder, Danielle Harris, Bill Moseley & John Landis.

And that about brings ya up to speed with everything you need to know. I don't know about you, but this looks to be a horror fan's absolute dream show, and I can't think of any better people to deliver it to us than Green & Lynch, two men who are super fans just like us at the end of the day. The show will premiere April 3rd over on FEARnet, with six total episodes in season 1 airing subsequent Tuesday nights.

Remember, if your provider doesn't carry the channel, you need to DEMAND THEY DO or you'll be left out in the cold come April 3rd. So unless you want to wait till later in the year to see the show on DVD or online, call up your cable provider and tell them you want FEARnet and you want it NOW. If you don't tell them you want it, they have no way of knowing you want it, so it'll likely stay off your programming package until we all start asking for it. Don't take no for an answer. You've got a couple months to convince them to carry the channel.






877-FEAR-247



^^ GET TO IT!!! ^^