Though I don't watch

Family Guy

as much as I'd like to, I've always been a big fan of the show, particularly the way they oftentimes cleverly manage to work in obscure pop culture references. This week's episode of the show featured one of the more obscure and awesome references I've ever seen on there, one that only folks like us would pick up on and appreciate.

A major plotline of the episode was that Peter Griffin discovers that a local newscaster by the name of Tom Tucker was actually the man who played Michael Myers in

Halloween 4

, under the stage name George P. Wilbur (the real name of the guy who actually did play Myers is both

Halloween

4

&

6

). Being that he happens to be a big time fan of

Halloween 4

, Peter decides to manage Tucker and revitalize his acting career. The episode features a couple references to the film, including a clip from it. Enjoy the full episode by clicking the image below!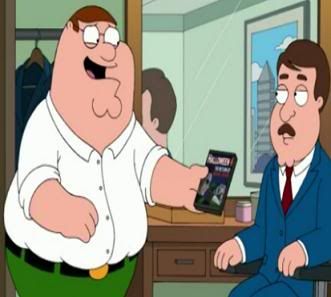 Coolest animated tribute to horror since

South Park

's HUMAN CENTiPAD episode? I think so!