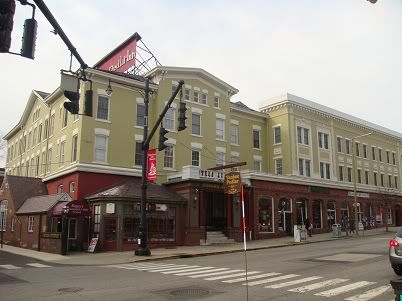 Jen and I spent this past weekend at Connecticut's Yankee Pedlar Inn, the allegedly haunted hotel where

The Innkeepers

(out on DVD & Blu April 24th!!) was filmed. Story goes that Ti West and his crew stayed at the hotel while filming

House of the Devil

(also shot in Connecticut) and experienced some odd things while there. As a result of the experience, West was inspired to write a movie set entirely in the hotel, based on stories the staff told him while he stayed there. The result is

The Innkeepers

, another win for West that recently hit On Demand platforms and limited theaters. Jen and I watched it last month and both quite liked it, so I decided that this year's romantic Valentine's weekend getaway absolutely had to take place at the Pedlar Inn. As I said when I made a post after booking the room, what could possibly be more romantic for two horror fans than celebrating our love at a haunted hotel, one that a horror movie was filmed in?!

The plan was to begin the 3 hour drive to Connecticut as early as possible on Friday morning, a plan which was slightly derailed by an emergency root canal I had to go in for at 8 o'clock that morning. For several days prior I had incredible tooth pain on one of the teeth that I knew I needed a root canal on and being that it wasn't gonna go away by itself, I knew the root canal had to be done immediately. And if it wasn't done before our trip, I knew there'd be absolutely no way I could've enjoyed myself. So my dad pulled some strings (our dentist is a long time family friend) and nabbed me an emergency Friday morning appointment. Bit of a bummer to start a vacation weekend in that way but hey, shit happens. The procedure was totally painless and a few short hours after getting the roots yanked out of my tooth we found ourselves at the Pedlar Inn, still fairly early on Friday and with a whole lot less tooth pain than I had been experiencing the previous several days. So really everything in that department worked out pretty damn well, all things considered. A little root canal aint gonna ruin my fun!




Upon arriving at the hotel, we were immediately quite pleased to find that not only does it look exactly as it does in the movie, both outside and inside, but it was also clear that the owners were totally embracing the fact that a horror movie was shot there, which was so cool to see. Oftentimes you go to places where horror movies were made and the people who own the properties seem to be kind of ashamed of the fact that it was a horror movie that was made there, never really allowing you to get the full awesome experience you're looking for. Quite the opposite when it comes to this place. There were several blown up behind the scenes shots from the filming of the movie positioned right near and even on the front desk, which were nicely framed and signed by the cast and crew. On top of that, the owner, Sanjay, seemed genuinely excited when we told him that we were there because we had seen and loved the movie. He and the co-owner chatted with us for a bit, telling us some stories about the making of the movie that I wasn't aware of (like the fact that there was actually a staff member named Luke who told Ti West a lot of the ghost stories the movie is based on), and they told us that at some point during the weekend they'd take us on a little tour of some of the filming locations. Score!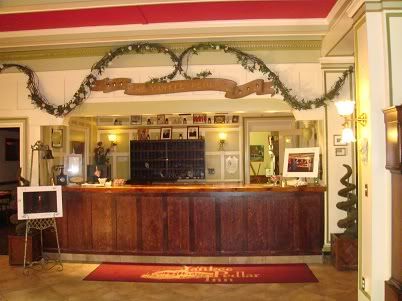 It was then that Sanjay handed us our room key and said something to the effect of, "

Staying in Claire's room, eh?

". Claire is the name of Sara Paxton's character in the film and I didn't immediately grasp what he was saying, so I just said something like "

Ha, that'd be awesome

". Sanjay then informed me that we were in fact staying in room 214, the room that was used as Paxton's room in the film. Never quite figured out if that was just a stroke of good luck or if the person I booked the room through intentionally put us in there because I had mentioned the movie when I called, but goddamn was that a nice little unexpected cherry on top of the trip.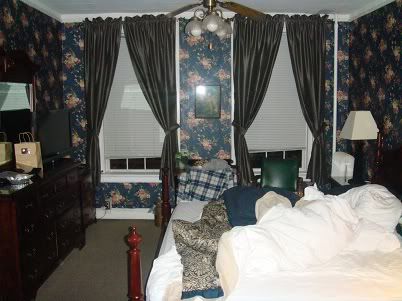 Sure enough, we opened the door to room 214 and it was instantly recognizable as Claire's room from the film. The inside of the room isn't shown all that much in the movie, but they filmed enough in there that we knew it when we saw it. So fucking cool.

We got settled in and then went prowling around the town, hitting up some nearby shops (one being Brazen Betties, where Jen scored a pretty snazzy squirrel hat). We soon realized that a few of the shops are directly connected to the hotel, allowing you access to them without even leaving the premises. Obviously that's something they didn't want seen in the movie, cause that'd kinda kill that creepy isolated vibe. There's also a full size bar/restaurant called Bogey's that's connected to the hotel, which we hit up for some lunch and drinks. Though it was a bit tough to eat so soon after getting a root canal, the food was pretty damn exceptional for a bar that's tacked onto a hotel, so it was nice to find that we had that place in our arsenal for the weekend.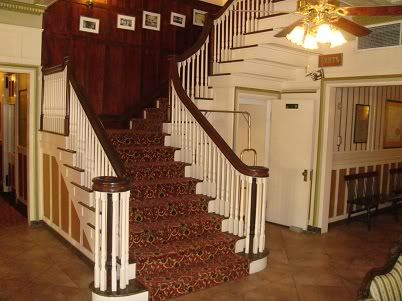 At this point we headed back up to the room to nap for an hour or so, which turned into a couple hours. Jen and I are both pretty hardcore sleepers, so those attempted micro naps generally do turn into full on sleeping sessions. But the beauty of this trip was that we had nowhere we needed to be at any point in time, so we really just had the whole weekend to relax and take our time doing whatever the hell we wanted to do. Whenever we go somewhere we usually have an event to attend or some kind of schedule to keep, so it was nice to just totally let go and do whatever we felt like doing at any given point in time. Including nap as we saw fit.

By the time we woke up it was pretty much time for dinner, so we headed directly across the street from the Pedlar Inn to Backstage, a restaurant that we ended up falling in love with and eating every subsequent meal of the weekend at. Goddamn is this place good. Now I know most of you reading this are probably only interested in the hotel itself and just want to know if we experienced anything paranormal or not, but I got several messages from people who said they wanted to make the trip out to the Pedlar Inn, so I just want to fill this with some good tips on stuff to do/eat while in the area, for those who may find themselves heading out there. If you do ever book a stay at the Pedlar Inn, my advice is to make good friends with Backstage. It's literally a stone's throw away and with a vast unique menu as well a list of beers both bottled and on tap that'll blow your mind, it's seriously one of the best places I've ever dined at. A lot of food joints pump a lot of money and effort into making the place look cool, neglecting the food quality which should be the main focus of any restaurant, but this is one place that puts equal effort into the atmosphere as they do the booze and the food. This first night I got myself a lobster pot pie and an organic pumpkin beer (yep, they've still got it on tap in February!), and it was absolutely to die for. Heaven, I tell you.

Afterwards we just kinda drove around the area looking for places that we could check out the next day, before stopping at a local grocery store to stock up some snacks and beer. This is the point when we discovered perhaps the main drawback of Connecticut; they don't sell beer past 9 o'clock!! So make sure to stock up early if ya ever make it out there!

Went back to the room and laid in bed while watching

Slither

on AMC, eventually falling asleep in the process.

Night One : No paranormal activity.

Saturday the plan was to wake up bright and early and enjoy the free continental breakfast the hotel provides. Remember when I said we're hardcore sleepers? Well ya, we didn't exactly get up in time to fulfill that wish. It was closer to noon than it was breakfast time by the time we were up and ready to go, so we decided to drive around to some of the places we spotted on our late night drive the night prior, including TJ Maxx, FYE, the supermarket again (to stock up on beer) & a seedy as all hell sex shop (where I nabbed myself a true prize; a wind-up toy of a chick blowing a dog). Saying a sex shop is seedy is fairly redundant, but this one literally felt like it was coated in a thin film of semen, with many of the products and movies looking like they were from the 1980's. In other words, it was awesome.

Our appetites clearly in full swing after that, we again hit up Backstage for some lunch, where this time I ordered a "Brooklyn Burger", which was essentially a Reuben sandwich on top of a burger. Again, totally delicious, even if it resulted in me spending a solid 10 minutes on the restaurant's toilet. And then another 10 minutes soon thereafter in our room's toilet. Hmm, I wonder if Sara Paxton .... oh, nevermind.

Hmm, what'd we do next. Oh ya, just kinda walked around the town of Torrington, staying in the general vicinity of the hotel. Not all that much to do around there but there are some cool little independent shops, like one we stopped in that was run by a dude who was a serious hoarder of both records and old Pee Wee Herman toys. It's weird because the town is half old-school and half modern day, with shops like that oftentimes found right next to bigger places like Subway and the aforementioned TJ Maxx. Kinda cool. Always good to see retail space still being occupied by people rather than big corporations. I was kinda bummed to discover that the coffee shop that Sara Paxton walks to in the film isn't actually in the location that it appears in the movie. Meant to ask Sanjay about that, but we couldn't find it. Bah, I really wanted to try that One Eyed Cyclops too!

Annnnd cue another nap!

After once again waking from our slumber, we decided to venture outside of the immediate confines of the hotel. Thanks to her trusty smart phone, Jen found out that there was a bowling alley nearby, called Sky Top Lanes. Bowled a couple frames over there (*cough* I won both *cough*) and then checked out an independently run video shop, which seemed to be keeping up with the times and thriving in a post-Blockbuster world. That made me smile. I have a feeling that we're gonna start seeing more places like that pop up in the near future, with a demand now finally coming back for the smaller mom and pop video shops that Blockbuster put out of business. With Blockbuster now gone, it's those places that seem primed and ready for a comeback. Hope I'm right about that!

We were gonna go somewhere different for dinner but we figured why stray from what we knew we liked, so we again returned to Backstage. Besides, why go somewhere that you have to drive to when you can just walk across the street and drink as much as you want without having to worry about driving back? This time around I went the lobster route again with a lobster cobb salad, which was probably the most delicious thing I have ever eaten out (grow up...). It was loaded with lobster, bacon, eggs, tomatoes and the freshest avocado I've ever tasted and totally worth the almost 20 dollar price tag. We're used to eating at places like Wendy's and TGI Friday's, so I figured why not take full advantage of the fact that we had such unique and incredible food at our disposal. Food is really the only thing that I never feel guilty about dropping a lot of money on. If you can't spend your money on a good meal, then what the hell can ya spend it on, am I right?!




Now's about when this trip was taken to the next level of awesomeness. We returned to the hotel and I asked the girl behind the counter if Sanjay was there, hoping to cash in on the promise of a little tour. She said he was busy but that she'd be happy to show us around. Turned out this was Katie, the girl who booked the room for us when I called up last month, and she graciously gave us full access to the rooms we had been dying to take a peek inside. For that, I cannot thank her enough. So Katie, if you ever read this, thank you so much for taking the time to show us around. Meant a whole lot to us and really made our stay extra special. Give her a raise, will ya Sanjay?

First stop was the room used as Kelly McGillis' room in the movie, room 224. This is the room where Sara Paxton walks in on her showering, where they then have that little chat about the spirit world.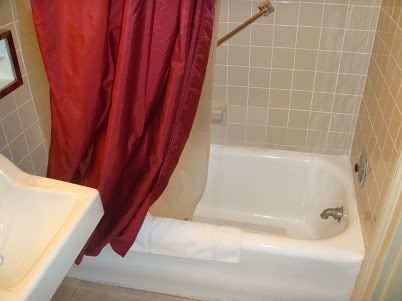 Next up was room 353, the Pedlar Inn's answer to the Overlook's room 237. Don't want to spoil anything for anyone who hasn't yet seen

The Innkeepers

, but this is the room that the old man towards the end checks into. In real life, it's the room where the former owner, Frank Conley, actually died in (he apparently had multiple heart attacks on the bed in there). This is considered a bit of a hot spot of haunted activity in the hotel, with Katie telling us one story about a bunch of guys who stayed there who were very creeped out about some stuff they witnessed in there. In the bathroom is the bathtub which is seen in the movie, which I'll again leave spoiler free. If you've seen the movie, you know the significance of that bathtub!

Katie showed us around a bit more but those were the two main locations. She was truly an awesome tour guide, and it was never awkward going into quiet rooms with a total stranger like you might expect it to be. So again, thank you Katie!!

After the tour Jen and I walked around the premises a bit by ourselves, taking goofy pictures of each other with the hopes of capturing some orbs or anything out of the ordinary. The place is highly creepy, but we didn't manage to capture anything.

It was somewhere around 10 or 11 at this point and we were torn between just getting in our pajamas and watching TV or heading into the bar, the latter of which we ended up deciding on. And what a good decision that was. We ended up grabbing a few drinks in there and chatting with the bartender, Cindy, telling her why we were staying at the hotel and things of that nature. She offered to take us into the basement, which if I'm not mistaken was used for a couple particularly scary scenes. This is where all the booze is stored, which Cindy usually has to go retrieve herself, so needless to say I think she was a lot happier to be going down there with some company. Highly creepy and I totally would be a little bitch about going down there alone. Cindy mentioned that she hadn't seen the movie yet, as it would make her even more scared of going down there alone than she already is, and I can't say I blame her! Unfortunately didn't bring the camera with us to the bar, so we weren't able to snap any shots down there.

Night Two : No paranormal activity.




So, is the Pedlar Inn really haunted? I obviously can't say, but I can say that neither Jen nor I experienced anything out the ordinary while there. It's for sure a creepy as can be old creaky hotel (established in 1891!), with scary old pictures all over the place, and it's most definitely a place I wouldn't like to be alone in during a power outage. That much is for sure. But again, nothing paranormal was experienced by us. None of the staff members, who spend a lot of their time there, really had any scary stories to share, and it seems to be more of a case of the hotel just being old and spooky than anything else. But again I must reiterate; I certainly would never spend a night alone in room 353, not even if you offered me a couple hundred bucks to do so. So ya, if you go there looking for creepy, you will not be disappointed.

The Yankee Pedlar Inn is a pretty awesome place to stay, with both old school charms like actual room keys (not cards) as well as modern day touches like internet access and mini fridges, making it both a charming and comfortable hotel to spend a couple nights in, regardless of whether or not a horror movie was filmed there. If you are a fan of

The Innkeepers

, staying there for at least a night at some point in your life is an absolute necessity, and you'll be pleased to find that the owner and staff are more than happy to give you the full experience you're looking for. Walking into the hotel is truly like stepping into the movie and because of our stay there this past weekend, I really feel forever bonded to the movie, more in love with it than I even was when I first saw it. Cannot wait to go back and revisit it now that I've actually been in that hotel!

Huge thanks to Sanjay, Katie, Cindy and the whole Yankee Pedlar staff for making our stay a truly memorable experience. We will most definitely be back in the future, ready for more good food and possible paranormal encounters!

If you want to check out all of the pictures we took inside the hotel, head over to the 'photos' section of the Freddy In Space Facebook page!