When I was a youngster, RL Stine was as good as God in my book; a man that was never seen and yet delivered utmost joy and happiness into my life. Burying my head in

Goosebumps

books got me through many a day of torturous grade school and I will always be thankful to RL for that. Those books will forever occupy a special quadrant of my right ventricle and I look forward to the day when I can usher my future children into the world of horror through Stine's writings. Don't get your hopes up though Jen, that day is still very far away, barring any unforeseen accidents.

If you're a lifelong Goosebump'er like myself, I issue a challenge to you tonight, a challenge that will test your true fandom of the book series and force your mind to travel back in time to your formative years. I've excised small portions of the iconic imagery from 10 different original

Goosebumps

books and I challenge you to name as many of the books as you can, using only those small slivers of awesomeness as your guide. In doing so, keep in mind that these are only from the original covers of the 62 books in the original

Goosebumps

series.

Leave a comment with your answers and good luck!!



1.



2.



3.



4.



5.



6.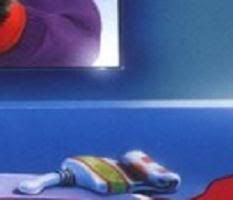 7.



8.



9.



10.