I generally like to leave event coverage to the people/sites that were actually at any given event, but two

Walking Dead

related things seen at Toy Fair in NYC this past weekend came to my attention today that I simply cannot resist sharing. Toy Fair actually began Sunday and continues through this coming Wednesday, so expect more awesomeness to head our way in the coming days. What's the best place to go for coverage? Well, there are oodles of sites out there on the net covering the event, but I'll direct you over to my boy Paul's blog Idle Hands, where you can see tons of pictures and news coming out of Toy Fair, including looks at new

Evil Dead

toys & some new additions to the

Living Dead Doll

family (Chucky!!), as well as all kinds of other geeky plastic glory!

Now where were we? Oh right,

Walking Dead

. Last night's episode was pretty awesome, wasn't it? Oh wait, that's not what we're here to talk about. Right right, now I remember.

Check out two kickass upcoming

Walking Dead

products that I've already set aside money for!

First up, though Season 2 is only just over halfway through with, the packaging was already unveiled for the deluxe edition Blu-ray release, which will be hitting store shelves sometime later in the year. Feast your undead lovin' eyes on what is perhaps the coolest disc casing of all time!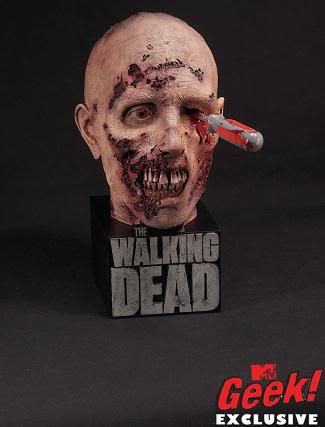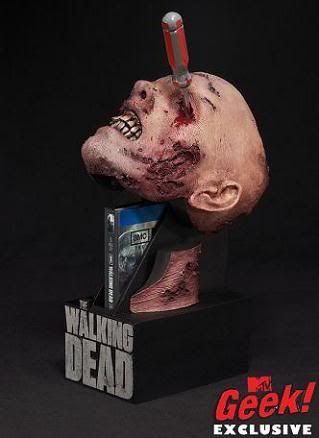 Sculpted by McFarlane Toys, this piece is based on the 'RV Zombie' created by KNB EFX for Season 2. A pull of the screwdriver embedded into this guy's skull is what serves to open up the case. How's that for an awesome display piece?!

Above pictures courtesy of MTV Geek, who were given the exclusive on them.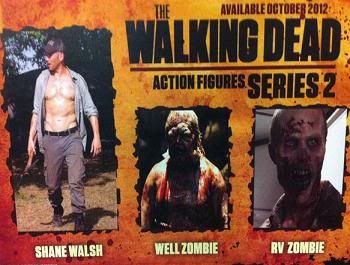 McFarlane also announced that they will be adding to their

Walking Dead

action figure line later in the year, with a Season 2 wave consisting of a shaved head Shane, 'Well Zombie', 'RV Zombie', 'Bicycle Girl Zombie' & a new Rick Grimes, in street clothes. The figures themselves weren't unveiled, but look for them to hit stores come October.

The second item that really caught my eye was some sort of new game being released by Jakks Pacific, which looks to fuse

Duck Hunt

with zombies. Sounds good to me!




Though the official description of the item seems to suggest that you plug the plastic pump action shotgun into the TV and you're then somehow able to shoot zombies while watching

The Walking Dead

, I'm assuming plugging it in brings some kind of game up on the screen which allows you to roam around shooting video game renderings of the show's zombies. Really not 100% sure, but this looks pretty cool and innovative regardless. And I want it.

Remember, for more Toy Fair 2012 coverage, make Idle Hands your one stop shop!