OK so I was pretty sure I was done with the Monster Mania 21 coverage but then I got to thinking that I saw some pretty awesome costumes while there and I wanted to give some quick shout-outs to the folks who go out of their way to make their fellow fans feel like the hotel lobby isn't just a hotel lobby, but rather a living breathing horror film, occupied at nearly all times by our favorite genre icons. The fans who dress up in full costume at these things are perhaps the most hardcore fans of all, and I just love how a dude who is an ordinary businessman 359 days out of the year can toss on a costume and be something extraordinary for the other six. It's a beautiful thing, it truly is.

Now unfortunately, since I didn't think of this post idea until after I left the convention, I didn't actually snap pictures of any of the costumes I saw while there. Thankfully, I've got a whole lot of Facebook friends who did. So thank you all for letting me steal your pictures, even though you never actually gave me permission to do so. If you want to be all mean and get upset about me using your photo without your permission, drop me a line and I'd be happy to edit the post to credit you. Since you're such a world class photographer and all. Jerk!

On with the cosplay!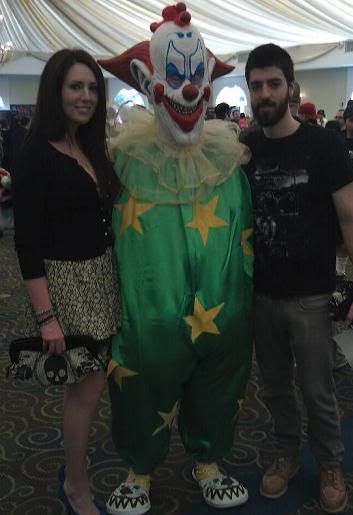 Killer Klown - Joe Davis


Pictured with Jen & myself! Met Joe later in the night out of costume, really nice guy. He even had one of the Klowns' trademark guns on him!





Sam - Cody Mardis


I've seen a couple people dress as Sam at shows in the past, but Cody's costume is definitely the best. Who knew a full grown Sam could be pulled off so well!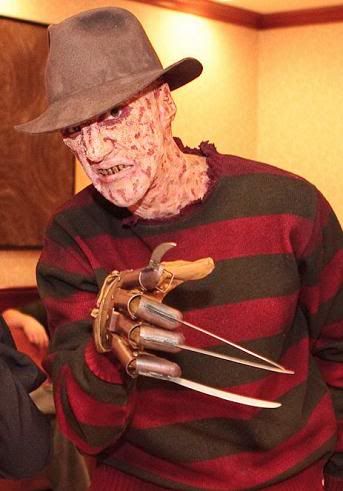 Freddy Krueger - Chris U.


Chris is one of the most genuinely nice guys I've ever met and Monster Mania truly wouldn't be Monster Mania without him. He's really become a good friend to everyone in my family and I can't thank him enough for being so awesome. You may remember Chris from last year's Monster Mania, where he did a reading of the children's book

Go The Fuck To Sleep

for this here blog. Chris always does his own makeup but told me this past weekend that he picked up a top quality mask to wear from now on, which I'm very excited to see unveiled in August!


Wishmaster

's Djinn - Bob Simpson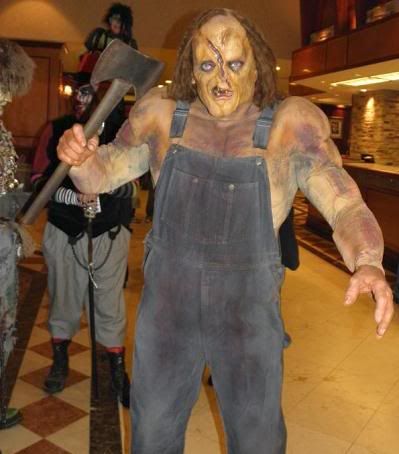 Victor Crowley - Bob Simpson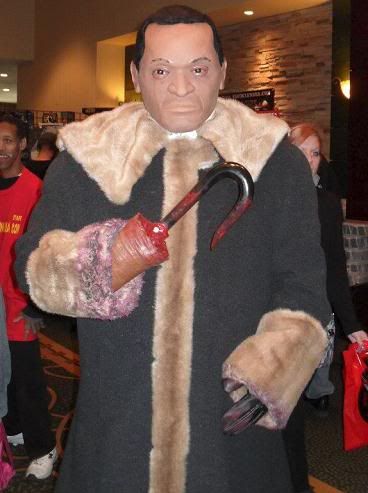 Candyman - Bob Simpson


Yep, all three of the above costumes were worn by the same guy over the course of the weekend. Bob is truly amazing, hand making all the costumes and hand sculpting all the masks. Now that's dedication!





Pogo The Clown - Jeremy Woodworth


This guy is so awesomely creepy and always in character as John Wayne Gacy, talking about how he wants to invite young boys over for yard work and put them in his crawlspace. Gotta love it!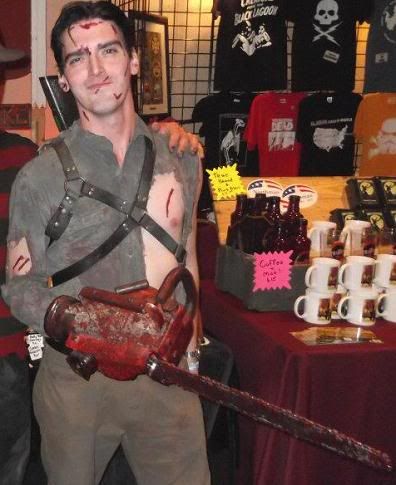 Ash - Adam M. King


This is another guy who has become a friend of mine through Monster Mania. Nobody does Ash better than Adam, that's for damn sure!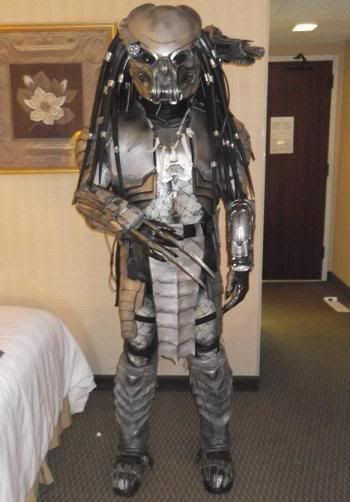 Predator - Neill D.


This is one of Chris U's friends and he's rarely seen outside of costume, whether he's the Predator or

Watchmen

's Comedian. This costume was such a massive hit that Neill literally stood in one spot for what seemed like hours and people just kept coming up to him and snapping photos. I'm sure you can see why!





Silent Hill

's Pyramid Head - ?
Saw this dude in the parking lot without the pyramid head on when I was leaving on Sunday. I wish to un-see that and only remember him like this. If anyone knows this guy's real name, please let me know so I can add it!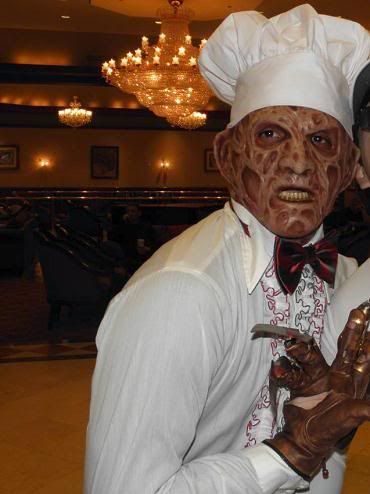 Dream Child

's Chef Freddy - Jose Alberto Sanchez
Wish I could find a better picture of the whole costume. Definitely one of the most original and creative I've ever seen. Serious props, Jose. Bon appetit!

You guys all rock. Thanks for making Monster Mania that much more special!