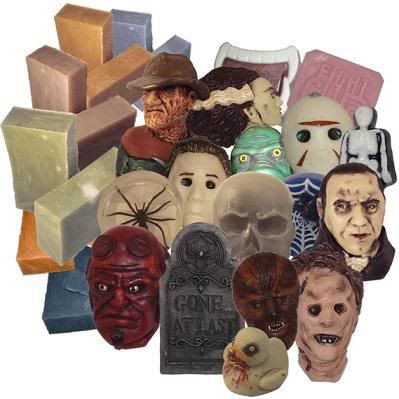 A few weeks back I posted a picture of a unique bar of Freddy Krueger soap on the Freddy In Space Facebook page, teasing that it would soon be given away here on the blog. The response was overwhelmingly positive, but I wanted to hold off on the giveaway until all the

Walking Dead

giveaway fun was over. Now that it is, it's finally time I part with the coolest bar of soap of all time. Damn you for splitting us apart!!

I don't remember exactly how I discovered Spellbound Soapworks, but I somehow stumbled upon the site several weeks back, during my nightly travels around the web. I immediately knew I had to make a post about the company, but I decided to take things one step further and e-mail the owner, Maura Buckley, to see if she'd be up for supplying a bar of her handmade soap for a giveaway (giving away shit = always cooler than merely telling you about shit). As you've probably gathered by now, she said yes. So let's all send out a big thank you to Maura for her generosity. Thank you, Maura!

It was after a visit to a horror convention in 2003 that Maura started her company, inspired by the thick clouds of geek fan body odor. She figured that maybe if she crafted delicious smelling bars of soap in the likenesses of our favorite horror & sci-fi icons, we'd be motivated to get clean. And thus, Spellbound Soapworks was born. Ever since, horror conventions have smelled just a little bit better.

OK so that's not true at all, but Maura did launch the company in 2003 and she does specialize in handmade bars of glycerin soap sculpted in the likenesses of geek icons, everyone from Leatherface to The Toxic Avenger, Jack Skellington to Regan MacNeil. Sculpted by her sister Chris, hand-painted and infused with trademark scents such as 'All Hallows Eve' & 'The Power Of Spice Compels You', the unique bars of soap are truly unlike any you can get anywhere else, both beautiful display pieces as well as delicious smelling cleaning implements. In other words, you can prop Toxie up on your sink counter or use him to clean your balls ... the choice is entirely up to you.




Maura asked me which bar of soap I wanted to do a giveaway for and naturally, I chose Freddy Krueger. Part of Spellbound's 'Cinema Slashers' line, Freddy is infused with a scent called 'Elm Street', filled with "

notes of geranium, bergamot, and rich Indian spices; well rounded with notes of amber, woods, and musk.

" I don't know what the hell a bergamot is but I will say that this bad boy has been sitting in my room for a couple weeks and let me tell you, it smells absolutely delicious, even just sitting here on my desk in its shrink wrap. Leads me to believe that even if you just want to keep Maura's soaps as display pieces in your bathroom, they will still do their job of making you and your home smell that much better!

OK enough babbling. You want the Freddy soap? All you've gotta do to enter is leave me a comment below with your e-mail address and your personal answer to the following question ...



- Which horror icon do you think smells the absolute worst, and why?



Entries will be accepted through next Thursday, March 29th, at midnight, so make sure to get your comments in by then. Good luck to all!

Head over to Spellbound Soapworks for more "

sinister suds for sullied souls

." If you just want regular shaped bars of soap, Maura's got ya covered there too, with unique scents including Ectoplasm, Graveyard Dirt & Swamp Thing. She's truly got a little something for everyone, whether you love horror or just want to smell good enough to eat!