OK so that was one of the strangest headlines I've ever typed out. Let's hit the rewind button on the Freddy In Space VCR and make some sense of this!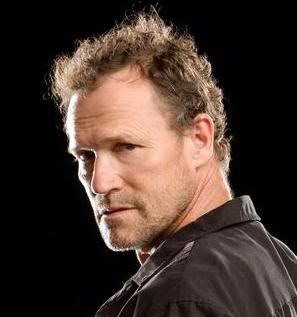 Alright here's the deal. I'm headed off to Monster Mania in New Jersey this Friday, where I'll be spending my whole weekend. The guest that's gonna be there that I'm most excited to meet is Michael Rooker, the star of such films as

Henry : Portrait of a Serial Killer

&

Slither

. Rooker also of course played Merle Dixon on

The Walking Dead

, in a brief but highly memorable performance.

Now I was trying to think of something really cool to get signed by Rooker, rather than just some boring ole 8x10 that I'd end up tossing in a drawer in my room, and I ended up concocting something that made me pretty proud of myself. I knew I had a severed hand prop laying around in the basement somewhere and I also knew there was a little kiddie police officer play-set for sale at my job, so I put the two together and made myself this ...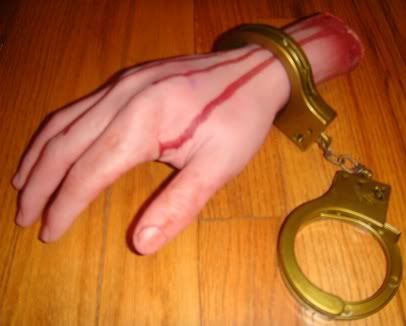 If you've never seen

The Walking Dead

you're probably right about now wondering how this relates to Michael Rooker. If you are however a fan of the show, you'll of course know that Rooker's character is hand-cuffed to a rooftop in Season One after he proves himself too much of a danger to the group. In a later episode, as a gaggle of zombies are about to feast on his insides, Merle cuts his own hand off with a hacksaw in order to escape the cuffs. The group, including his brother Daryl, soon thereafter find the hand, cuffs still dangling from the pipe he was attached to, and assume he didn't make it. The fate of Rooker's character is never truly known, with many speculating that he will someday make a return to the show. Hope, hope!

In any event, I thought this little homemade

Walking Dead

prop would be something really cool and unique to get signed by Rooker, a display piece I could be proud of. And then the thought crossed my mind that that'd just be way too cool to keep for myself. I mean come on; a Michael Rooker signed severed hand ... how could I possibly keep that awesomeness all to my self?! That'd just be utterly selfish, dont'cha think?

Sooooo, in my never-ending quest to reward you folks for reading and supporting my blog for all these years, I decided to part with my creation before I even get it signed. Yes, that's right, I am offering up this signed severed hand as a giveaway prize. BUT. There's a catch ...

The Freddy In Space Facebook page is a mere 35 'likes' away from a milestone 2,000 fans and I would absolutely love to see that number reach 2,000 by this weekend. So here's the deal. If you guys and gals can get that number up to 2,000 by this Saturday afternoon, I will get Merle's hand signed by Michael Rooker and I will return after the weekend and hold a giveaway for it. Tweet about it, tell your Facebook friends to 'like' it, do whatever you've gotta do. If that fan page reaches 2,000 fans by Saturday afternoon, the hand gets signed and the giveaway begins. How's that sound?

Though this is mainly geared towards

Walking Dead

fans, I figure even non-fans of the show will appreciate a bloody severed hand signed by Rooker, even if the reference is lost on them. Am I right? So get out there and pimp the Facebook page and then stay tuned early next week for (hopefully!) the giveaway!