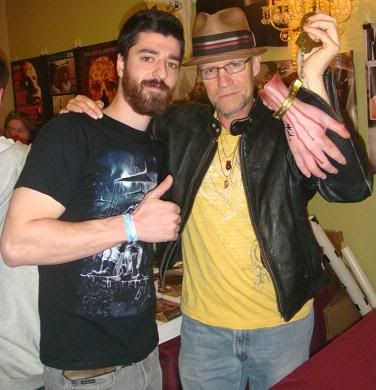 So remember before I left for Monster Mania last week I told you fine folks that if you helped get the Freddy In Space Facebook page to reach a milestone 2,000 'likes' by Saturday afternoon I'd meet Michael Rooker at the show and have him sign a severed hand prop I whipped up, in reference to the fact that Rooker's character on the show cut his own hand off in order to escape a pipe he was handcuffed to on a zombie infested roof? Well, to my delight, the fan page in fact did reach 2,000 likes, before the convention even began. For that, I must offer a huge thank you to all who helped get it there. Being a man of my word, I have returned from Monster Mania with the signed hand and I'm now ready to find a good home for it. But first, a little bit about my experience with the man, the myth, the Rooker.

I'm certainly not gonna judge Rooker based on one meeting, and I heard other stories from friends over the weekend about how cool he was, but if I'm being honest my personal experience with the man left me with a fairly bad taste in my mouth. It wasn't that he was mean or anything, he just kinda ... treated me like I wasn't really even there, paying $30 to meet him. Granted this was towards the end of his signing shift on Friday night, and he was probably tired and bored, but he didn't react to anything I said and I really felt like he wanted to be anywhere but there in that moment, meeting me. Though his handler was impressed by the fact that I made a little severed hand for him to sign, and tried to get Rooker to be impressed too, The Rook was havin' none of it.

That said, I did see him the following day on an elevator and we shared a quick exchange of hello's, wherein he seemed a whole lot more friendly. So I'm gonna give the man the benefit of the doubt, since I like him so damn much, and say that he was just tired on Friday night. Still not really any excuse for not being friendly in the least to a fan who paid good money to meet ya, but what can ya do? All that really matters here is that I did what I came to do; get the hand signed!




Seeing as how I made ya guys do some work just to get this giveaway going, I'm gonna make entering as easy as possible. So if you want the signed severed hand, all you've gotta do is leave me a comment below with your e-mail address and a brief little blurb about why you dig Michael Rooker, just so I know that you're truly a fan who wants this. As an added bonus for those who did pimp the Facebook page, provide me with proof that you did (a link or screen grab will do) and I'll toss in an extra entry for you. Deadline for entries will be next Monday, March 19th at midnight.

Good luck to all! Oh and if you're wondering if Merle will be back on

The Walking Dead

in the future, a little birdie told me Season 3 starts filming soon and that Rooker won't have much free time once it does. Oops, did I just say that?