I gotta say, after going to these for so many years, it's getting harder and harder to provide entertaining recaps of my convention experiences. With my interest more and more moving away from the panels, dealer rooms and even celebrity encounters that are a lot more exciting the first couple go-arounds, and the focus now almost entirely on just hanging out with friends & family, I've found that lately there really isn't all that much to recap, at least in terms of the kinda stuff that'd be interesting for anyone other than myself to read.

It's weird because I've kinda come to the realization that in the past I would buy things I didn't necessarily need and even meet celebs I didn't necessarily want to pay 20 bucks to meet due to the fact that I felt this strange self imposed pressure to return from any given convention with entertaining stories and experiences. I'd stress about it all weekend, worried about coming back with nothing interesting to blog about. But this time I kinda just said fuck it and did whatever it was I felt like doing at any given period of time, which in many cases consisted of just sitting up in the hotel room, drinking beers and hanging out with Jen, my brother, his girlfriend Jess and various other convention buddies (folks like Jeff Rego, Tom Bryce & Kristy Jett). I'm getting lame in my old age, I know. Don't worry though, I'll spare you the boring in depth details about us drunkenly calling the pizza delivery place under the name 'John Holmes' & kicking the shit out of a

Spawn

action figure.

That said, I do want to quick recap some of the merch I bought and the few celebrities I did get around to meeting. But first, a little general recap of the whole experience, which I found to be a bit different than usual ...

Monster Mania grows every year, with a whole new room in the hotel being opened up for the show last year, and this year the thing was absolutely massive, in terms of attendance. Though that makes me incredibly happy for the promoter and the oodles of vendors, many of whom are good friends of mine and had their best money making weekends ever, there's also a big part of me that kinda wishes the show could stay at the smaller size and scope it was at the first several times I went. This time around it was hard to even walk in the dealer rooms, as there were people plastered wall to wall, and it took forever to get served food or drinks in the bar and even to catch an elevator up to the room. Jen and I usually eat at the bar a good four or five times per weekend at these things, an enjoyable staple of our convention experience, but this time it took us nearly 2 hours to even get served both times we made attempts at doing so. Needless to say, our time spent in the bar was very limited this past weekend.

Again, totally happy to see this thing getting bigger and bigger, but as someone who prefers smaller crowds over congested masses of humanity, I felt this strange sort of distance from the things I've grown to love about Monster Mania over the years. It just felt different, not as much like the second home it used to feel like. It felt like a lot of people there weren't even horror fans so much as they were people who knew the convention would be a good place to go and party, with resulted in a lot of blacked out assholes and unfortunately even several people who were acting fairly rude towards Jen and my brother's girlfriend. Maybe I'm just getting a little burnt out on these things, or maybe it's just that I tend to really not care for much of humanity (can ya blame me?!), but something about the vibe just kinda had me in a funk all weekend. I'm a creature of routine and the fact that we couldn't really get into our usual Monster Mania routine really threw me off and frustrated me. Don't get me wrong though, we had a great time, as we always do. And it totally sucked to return back to reality today. It wasn't a bad experience by any means, nor is the fact that it wasn't as much fun as it has been in the past reflective at all upon the convention itself. It was just ... different.

Anyways, let's get to the good stuff; the celebs I met and the merch I scored. Both expenses were kept to an all time low, as evidenced by the fact that I for the very first time returned with money still in my wallet. Money means a lot more now to me than it ever has, and it's hard to justify buying a Boo Berry bobble-head or getting another Kane Hodder signature when that money could instead go to feeding myself and my cats for several days. I used to feel like I wasn't giving myself the full Monster Mania experience unless I dropped at least $500, but now I'm much happier to leave there with enough money for groceries and cleaning products. Again, I'm getting old and totally lame. And I've got credit card bills and rent to pay. Such is life, eh?

Onto the fun!




One of the best experiences of Monster Mania 21 was meeting Michael C. Williams, one of the stars of

The Blair Witch Project

(all three of them reunited there). I found out mere days before the show that my brother's best friend Shane, who is a lifelong friend of my family's, actually knows Mike and was in the same fraternity as him, albeit at different times. I knew this would be something cool to bond over so our first stop at the show was to Mike's table. What a cool dude. He seemed genuinely excited that we came up to say hello and graciously signed an autograph for me, free of charge.




Later in the night we were sitting in the bar having a couple drinks and Mike came over and sat down with us to chat for a bit. We talked about how this was his first convention appearance in a solid decade, and how he didn't realize so many people were still so into the movie. Really cool to be able to hang out with him for a bit in that bar setting.

I actually watched

The Blair Witch Project

on Thursday night in preparation for the cast being there and I gotta say, that movie is as effective and scary now as it's ever been. I literally had to turn all the lights on in the house after watching it, and I was shocked to discover that still, over a decade later, it's totally believable as being real. The same cannot be said for really any found footage film that has come in its wake.

On Saturday we checked out the

Blair Witch

reunion panel, which was really interesting. They talked a lot about how the movie was made, with the realness of it all coming from the fact that the filmmakers actually sent the cast out in the woods on their own to film, with the behind the scenes crew either hidden from sight or totally absent for much of the shoot. They also talked about how they would be fed less and less each day, to really get them feeling like they were out there in the woods, alone and in trouble. Never knew that. Pretty awesome and I now realize that it's unheard of filmmaking tactics like that which make that film feel so damn real.

By the way, totally never realized that Joshua Leonard was in both

Hatchet

&

Shark Night 3D

. I thought his character was one of the only good things about

Shark Night

and I didn't until this past weekend realize that was even him in there!

And no, I never got to smoke a joint with Heather Donahue. Sniffle.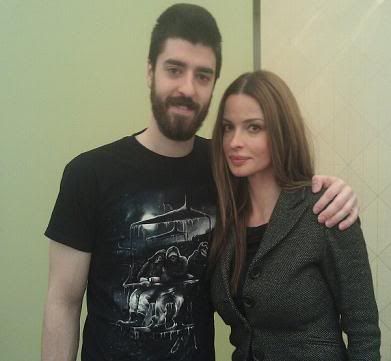 The only other celebrity I met (other than Rooker) was Lisa Marie, who I know best from playing Vampira in

Ed Wood

. I've had a serious crush on her since I first saw

Ed Wood

and I personally find her as Vampira to be one of the sexiest goddamn things on this planet. Which is why I of course got her to sign a Vampira 8x10 for me.




Lisa was absolutely adorable and kind, graciously taking a couple pictures with me and checking the camera afterwards to make sure they came out good. She also seemed genuinely interested in checking out my blog when I mentioned to her that I always do a little recap after these things, and she even took one of my business cards. So Lisa, if you ever end up reading this, I totally won't leave my girlfriend for you. Please come back and read that on opposite day.

As for the merchandise, I only picked up a few small treasures ...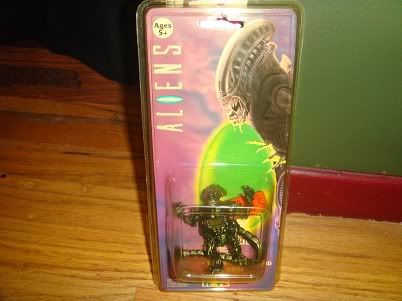 This Alien Queen watch came out in the early 90's and features a tail that wraps around the wearers wrist (provided the wearer has an Auschwitz wrist). I love little relics from the past like this and think it's so cool that there was a time when a horror movie was actually given its own watch. Imagine that?! If only I had this as a kid, I probably would've gotten laid before I turned 20.




This is one of the coolest things I saw for sale at the convention, which my buddy Terry Callen was selling at his Screaming Brain Studio table. It's an actual piece of the iconic Evans City Cemetery Chapel that's seen in the beginning of

Night of the Living Dead

, a location that is going to be torn down if a certain amount of money isn't raised to restore it. Terry has been doing a lot to help the cause, and you can too by heading over to Fix The Chapel and donating.




Been dying to snag this baby up ever since I saw prototype images a while back. Such an awesome figure, definitely one of the coolest plastic Ash' to date (and there have been a whole hell of a lot of 'em!). I want so badly to bust him out and play with him, but I generally like to keep my toys in the package these days.




It just aint Monster Mania until you've picked up a Fright Rags shirt. This has been on my must get list for a while now and I'm happy to say I've finally added it to my ever growing Fright Rags collection.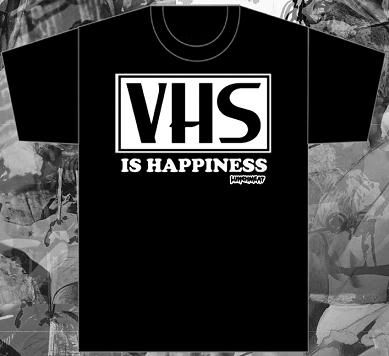 This shirt comes courtesy of the 'zine

Lunchmeat

, which puts its focus on all things VHS. This is another shirt that's been on my wish list for some time now. Had the pleasure of finally meeting Josh Schafer at the show, who runs the magazine. We've been online pals for a couple years now, so it was awesome to finally chat with him in person. Nice to know there are people out there who realize that VHS is indeed happiness. Head to the Lunchmeat website to snag one for yourself!




Rounding out the short list of purchases is this Victor Crowley painting from Grimpressions, which got me a whole lot of flack from friends over the course of the weekend. I dig the painting, and I like how it's imperfect, but boy oh boy did everybody else I showed it to seem to hate it, to the point that it became a running joke to pick on me for dropping $50 on it. In hindsight that's perhaps a little steep but shit, I was kinda drunk and I still do like the painting. Feel free to leave me a comment below and let me know what ya think, I won't be offended!

And that's about it. Not the best convention experience ever, and I don't have too many awesome stories or goodies to share from it, but it was once again a hell of a good time. Met a lot of friends that I've known online for a long time but never met in person and got to spend a lot of good quality drunken time with both friends and family, so I can't complain. Can't wait to return in August!

Head over to the Facebook page for more pictures from the event!