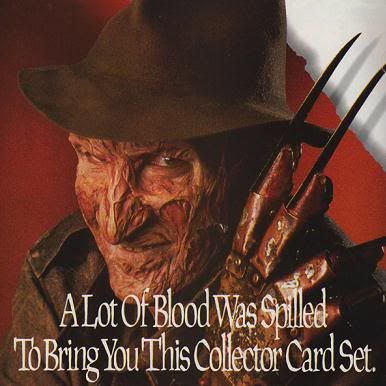 As these photos of me as a child are clear evidence of, I have been a Freddy Krueger fanboy for the majority of my life. My memory doesn't go far back enough to pinpoint exactly where my love for the burnt faced pussy started, but I have many fond memories of repeatedly renting the

Elm Street

films on VHS and one particularly vivid one of eating circus peanuts and watching one of them with my mom, while my brother and dad were away on a camping trip. I can't remember which installment it was but ya, that's about the earliest Freddy memory I've got.

When I was a kid my dad was a big time collector of trading cards, to the point that boxes upon boxes of unopened packs of everything from

Saved By The Bell

to

Fright Flicks

cards still sit up in the attic, rock hard sticks of gum just waiting to someday break the teeth of my grandchildren. I don't know where his fascination with trading cards came from, and I don't know where it went, but being a little kid with a father who collected them was pretty fuckin' cool, as I recall. Hell I even remember dreaming of the day where he'd tell my brother and I that we could have a field day and open up all the packs. That day never came, which is a good thing looking back because much of that collection is still to this day preserved. So if ya ever want mounds of

Robocop

&

Kiss

trading cards, you know whose attic to raid.




One of my dad's prized possessions in his collection, or at least the possession of his that I personally prized throughout my childhood, was the above boxed set of

Nightmare On Elm Street

trading cards that Impel Marketing put out back in 1991, right around the time

Freddy's Dead

was released. Now from what I gather this is the special edition set which you could only get through a mail away promotion, with the regular set available in stores only containing the cards and their own little case.

In addition to the cards, which are housed inside a nifty little Freddy casket, this special limited edition set included a keepsake boiler room box as well a 'Freddy certificate' and even a t-shirt, which featured artwork from one of the cards. Let's open this baby up and take a closer look at those contents!




We'll open up the casket in a minute but first let's talk about that certificate and t-shirt. The 'Freddy Certificate' isn't any kind of certificate of authenticity, but rather a coupon of sorts that guarantees its bearer "

is hereby entitled to one bloodless, uninterrupted night's sleep a year

", which pretty much means Freddy's got 364 other days to paint the walls with your bodily contents. In other words, even with the coupon, you're still fucked.

As for the shirt, it's unfortunately a size XL, and I cannot tell you how much that frustrated me as a kid. I wanted so badly to wear this thing, to the point that I remember hanging it in my closet with my other shirts, as if by some act of sorcery it would one day shrink and fit me. Keep in mind this was back in the early 90's, when horror movie shirts weren't nearly as prevalent as they are nowadays (Fright Rags who?), so this shirt, no matter how lame it looks now, was pure fucking awesomeness back then. I'm glad nobody told me that I would never fit into a size XL, even at 25 years old, because that information would've likely ruined me as a child. Kinda like if you told me I'd never grow up to be tough or jacked enough to be a pro wrestler. Why don't ya just put a bullet in my head while you're at it?

Now obviously the main draw here is the card set itself. Housed inside its very own casket, the set included 130 base cards and two special hologram cards. Because it was released after

Freddy's Dead

was made, the set includes images from all films in the franchise aside from

New Nightmare

, which I never really cared all that much for anyway.




Each card featured an iconic image from one of the films in the franchise, with descriptions on the backs essentially explaining what's going on in the images. Some of the cards even featured behind the scenes photos and factoids, rather than the usual screen grabs. The holographic cards were billed as being in "Freddy Vision" and it appears that one of the ones from this set got lost in the process of me growing up, because there's only one of them in here. Boo.

I can remember looking through each and every one of these cards so many times, testing myself to see if I could correctly identify which installment each image came from (the backs of each listed that info). It's funny because looking back on it, these cards were likely an introduction for me to many of the films in the franchise, as I probably was looking through these on a daily basis before I even saw all of the movies themselves.

So ya, needless to say, these cards mean a whole lot to me in terms of nostalgia, and I'm so glad that this box set remains with me after all these years. Sorry dad, but you aint gettin' it back!