With the geek community abuzz with pure hate since Michael Bay recently announced that his upcoming
Teenage Mutant Ninja Turtles
movie will reimagine our beloved pizza eating turtles as aliens (gasp!), now seems like as good a time as any to spread some
Ninja Turtle
joy around the interwebs. So let's put all the hatred aside for a brief moment and dig into the
Freddy In Space Vintage Toy Box
, which this time around takes us back to the early 90's, when the turtles were fused with the equally beloved Universal Monsters!
By the time the 90's came around, Ninja Turtles toy manufacturer Playmates had pretty much ran the line into the ground, their first few years of owning the property spent putting out as many figures as they possibly could of the characters as they appeared on the cartoon. Being that the turtles pretty much always wore the same outfits, the pickings were kinda slim. So Playmates decided to venture outside the norm and started thinking way outside of the box, in an effort to sell more Turtle toys. Soon store shelves became lined with very strange incarnations of the rad reptiles, everything from a clown version of Michelangelo to Leonardo as a 'classic rocker', farmer Donatello to space cadet Raphael. Ya see, Playmates knew kids would want as many different versions of their beloved turtles as they laid eyes on, so they took advantage in a big way. Can ya blame 'em?
In 1993, they came up with the genius (if I may say so myself) and totally oddball idea to merge the worlds of the Turtles and Universal Monsters. Though the two worlds never actually met anywhere but in the wildest imaginations of geeks, the idea was obviously that the merger of two beloved properties would help rake in the dough. I'm not sure how this particular line performed in stores at the time, but I do know that an initial run of only four in the series soon turned into eight, with most of the turtles pulling double duty and becoming two different Universal Monsters. So I guess it must've done fairly well.
Without further yapping, check out the full line below. The first four pictured are from the original line, which all featured glow in the dark action!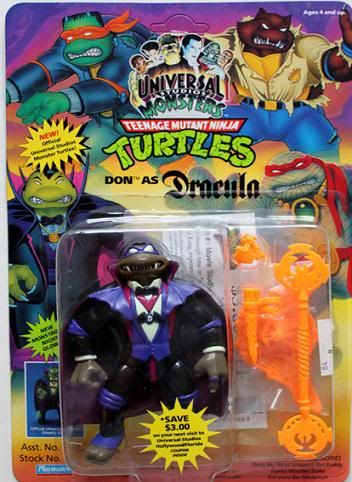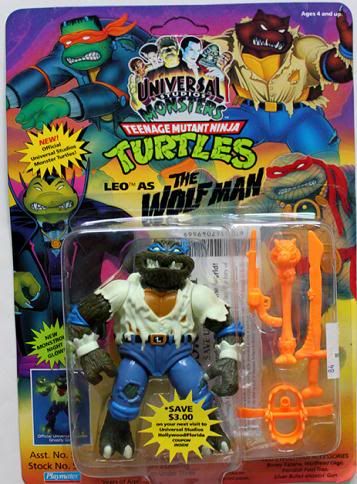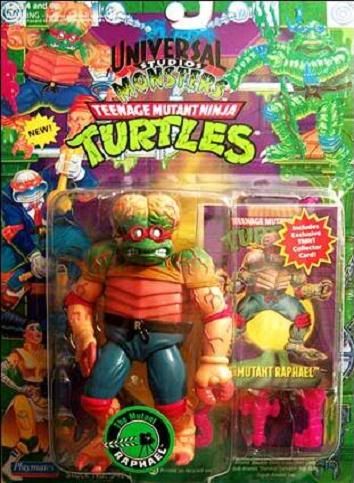 Soon after these came out, the Turtles were then fused with the
Star Trek
universe. Equally odd. Equally geeky. Not nearly as cool!

Universal Monsters Ninja Turtles, you are hereby inducted into the Freddy In Space Hall of Fame of Awesomeness!!