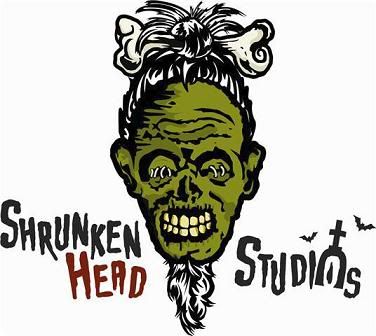 Founded by Brian Dooley, Shrunken Head Studios has one simple goal; to be "the best Horror/Sci-Fi toy company in the industry". Dooley, who has in the past worked with Jim Henson's Creature Shop and toy company Sideshow Collectibles, started the company in 2007 to deliver to fans the kinds of action figures the big toy companies likely never will, using his expertise and experience to make each and every one look like something you could very well find on the shelf of your favorite toy shop. In other words, these aren't just one shot custom figures slapped together from parts of action figures past; these are the real deal, hand sculpted works of art that Dooley gives us all the chance to add to our collections.

Earlier today, Brian put up for pre-order his latest offering; the rotten animated corpse of Nathan Grantham from the

Creepshow

segment

Father's Day

. Limited to only 400 pieces, with over 100 already gone, the 1:6 scale action figure is screen accurate and comes complete with the old man's trademark birthday cake, topped with Aunt Sylvia's severed head, which features candles that actually light up(!). Mr. Grantham has 30 points of articulation as well as a posable jaw, allowing you to move him around and let him have his cake ... and eat the brains of your other toys too!

Check out some images of this limited edition Shrunken Head Studios exclusive!!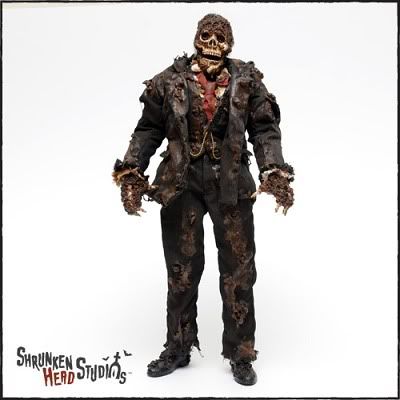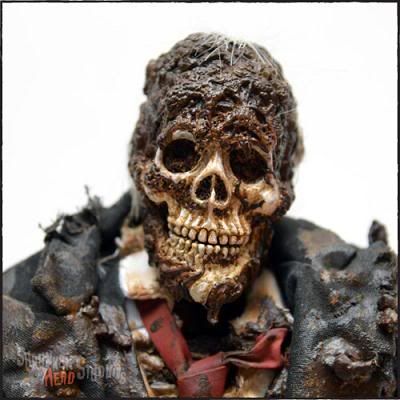 To see more pictures and pre-order your very own Mr. Grantham, for a price tag of $98, head over to Shrunken Head Studios ... while supplies last!

Oh and here's another little added incentive ... as if ya needed one! Brian will soon be whipping up a figure of Fluffy from

Creepshow

segment

The Crate

, and all who pre-order the

Father's Day

figure will be entered into a drawing to win that one once it comes out. Huzzah!