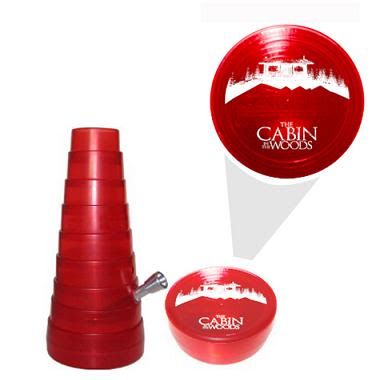 This particular piece of cool promotional shit is quite literally the epitome of cool promotional shit. What you see up there is in fact, as the title of this post suggests, a
Cabin In The Woods
collapsible bong, whipped up by Lionsgate to promote this weekend's long awaited release of the film. Not only a cool display piece but also a totally useful one, as well as a perfect tie-in for a film about kids partying in a cabin in the woods. After all, what's a horror movie cabin getaway without some weed? Not a very fun one, says I!
Mark my words; someday, in this life of mine, I will watch
Cabin In The Woods
in a cabin in the woods while smoking out of a
Cabin In The Woods
bong. If that aint the American dream, then I guess I'm just not American.
So how can you get your mittens on one of these? Well, for now they seem to be exclusively reserved for giveaway packages, along with
Cabin
shirts and
books
. Head over to both
Dread Central
&
Badass Digest
to get in on giveaways for those amazing packages!
Cannot wait for this movie. Friday truly cannot come soon enough!!