Remember those
C.H.U.D. masks
I blogged about a couple weeks back? Well the artist that made those, Patrick Carson Sparrow, has decided to continue down the path of making cool little wearable masks such as those, only this time he's taking it one step further by making not just masks, but entire playsets in honor of his favorite horror movies. Kinda like those little cheap cop/doctor sets you see in toy stores ... only far fucking cooler.
Carson Sparrow kicks things off with a Maniac Cop inspired playset, which I can promise you will be the coolest bit of Maniac Cop awesomeness you've laid eyes on since last week's announcement that Drive director Nicolas Winding Refn will be helping to bring a reboot to the screen!
Check out Sparrow's 'Slasher Cop' playset, which is now available for purchase on Etsy!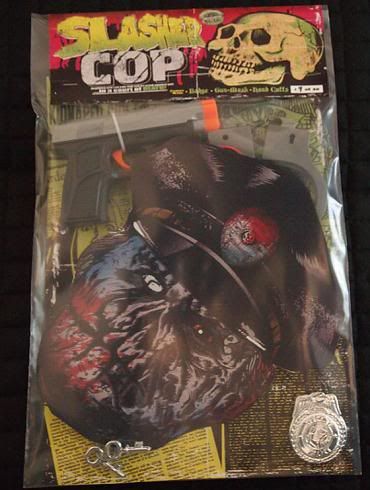 The playset includes a Maniac Cop mask as well as handcuffs & keys, a gun and a badge. Is that the coolest thing you've ever seen or what? When Sparrow told me he was working on this I about blew my load, and I must now admit that I've done just that here now that I've seen the finished product, only minus the word 'about'. Let me grab a tissue here.
OK so these playsets are extremely limited to only 20 pieces, which are going for a mere $20 over in
Sparrow's Etsy shop
. I don't know how many are left at the present time but I'm pretty damn certain of the fact that they won't last very long. So get yours today, or you'll have the right to remain uncool ... FOREVER!!
Speaking of Patrick Carson Sparrow, stay tuned for a giveaway of some of his awesome artwork, coming very soon here on Freddy In Space!