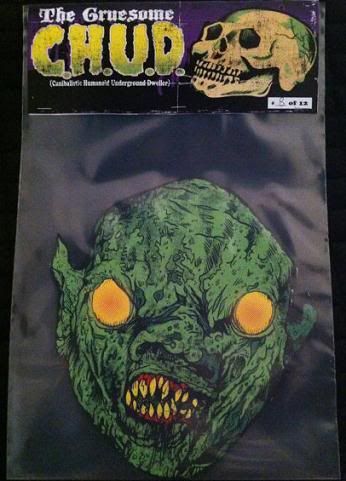 I don't know what the personification of cool is to you, but to me it's an artist drawing up an image of a C.H.U.D head and then turning it into a wearable mask.
That's exactly what my buddy Patrick Carson Sparrow has just done with these limited edition C.H.U.D masks, allowing you to instantly become one of everyone's favorite sewer dwelling cannibals!
A limited run of only 12, Patrick's C.H.U.D masks are printed on 80 lb. card stock and come equipped with eye holes and elastic straps, everything you need to fit right in down there in the sewer. If you see Daniel Stern down there, tell him I said hi!
Buy the mask
for $15 or browse around
Patrick's Etsy shop
to see more of his art. And keep your eyes peeled right here on Freddy In Space, as I'll be giving away some of his posters next week!