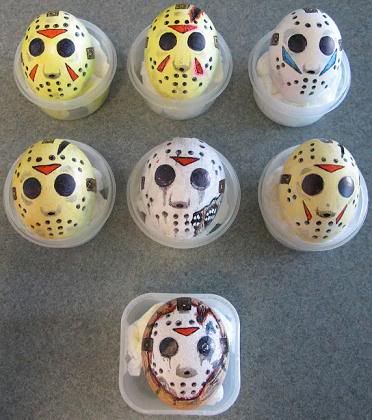 So the end of last week marked the end of the entry period for the first annual Freddy In Space Easter Egg Decorating Challenge. The task was to turn an ordinary Easter egg into a loving homage to one of your favorite horror movies. The prize? Trick or Treat Studios' upcoming
Michael Myers mask
, a $60 piece that is quite frankly awesome enough to get away with being double the cost. Hooray for Universal teaming up with a super talented indie mask maker to FINALLY mass produce an incredible and affordable Myers mask!!
Giveaways that require more than a simple comment to enter generally don't get all that many entries but I was happy to see that seven of you went out of your way to create an egg for this challenge. I'll take it!

Onto the results!

Drum roll please ...

The winner of the challenge was Freddy In Space friend BILLY POLARD, who went all out for this challenge and created not one, not two, not three, but SEVEN eggs! Yep, the Jason mask eggs pictured above were Billy's creations. And he even whipped up a video for the eggs, which he has cleverly titled Fried Egg The 13th, showing off his egg masks which range from Part 3 to Jason Goes To SHELL. Check it out below!!
Too cool. Congratulations Billy and thank you for putting your all into this one. Your Myers mask will be pre-ordered for you by me and will arrive on your doorstep once Trick or Treat Studios begins shipping them out in July!
Without further adieu, it's time to check out the equally awesome other entries, starting with my 2nd place runner up winner. Believe me when I say that if I could thank all of you who created these by giving you all kickass prizes, I sure as hell would. In lieu of that, I will just offer up a massive thank you to you all for taking part in this. It truly means a whole hell of a lot to me.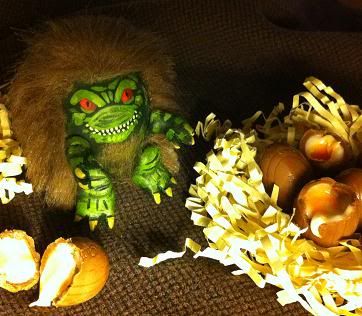 GABE LAPEER
Had to cut the size of this one down a bit so it'd fit here.
Click here
to check out the full picture, which features even more Cadbury Eggs! Yum!!
OK ya know what, I loved this entry so much and I was totally torn between it and Billy's. So Gabe, I'm gonna go ahead and send one of
London 1888's Critters posters
your way, as a second place prize. Brilliant use of Cadbury's, good sir!!
RICKY UMBERGER #1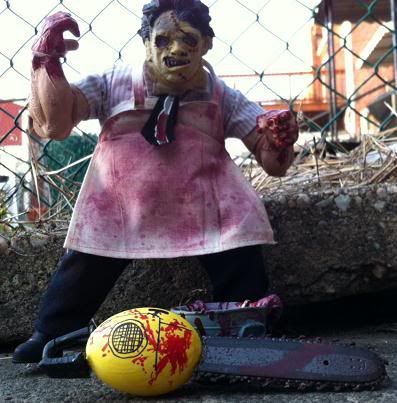 RICKY UMBERGER #2
NICOLE OSTROWSKI
JENNIFER HALL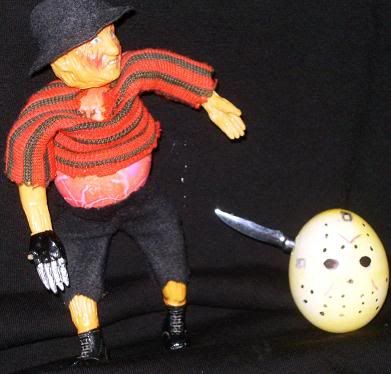 MICHELLE PADGETT

Again, thank you all so much for taking part in this. I foresee this becoming a yearly tradition here on Freddy In Space!!