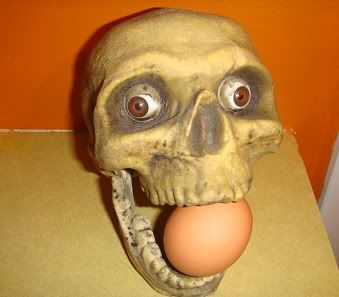 It's Easter weekend and you simply can't let an Easter pass you by without decorating some eggs, no matter how old you are. Am I right? It's a tradition that we must keep alive, and here on Freddy In Space, we are going to keep it alive this year in a big way. Obviously though, not in the traditional sense!!
I've come up with a little challenge for you guys and gals. What I want you to do is decorate an egg in honor of your favorite horror movie. Be it a reference to a specific scene, a character, a prop, or whatever the hell comes to your mind, I want to see an Easter egg that is creatively decorated to reflect your love for any horror movie that you love. In other words, I'm looking for anything from a simple red and green striped egg to one turned into the Tallman's drill ball to three of them lined up ass to mouth ... the sky is truly the limit.
Now I would never ask you folks to do something that I myself didn't take the time to do along with you, so I whipped up a little egg of my own last night, in honor of one of my favorites, Killer Klowns From Outer Space. Hopefully, this will give you some inspiration!
The idea is to just have fun and be creative. I'm not so much looking to judge art skills or anything like that, so much as I am looking for creative and fun ideas. The one that tickles my fancy bone the most will win the challenge, simple as that.
Now I know it's hard enough to get people to even just leave a tiny comment to enter a giveaway, so I figured I'd better offer up a seriously awesome prize to make the temptation to be creative and decorate an egg simply irresistible. And I think I've come up with just the thing ...
Yep, that's
Trick Or Treat Studios'
officially licensed
Halloween 2
Michael Myers mask, which retails for $60 and is now available for pre-order, shipping in July. Your win in this challenge will get you a pre-order of the mask, which you'll receive on your doorstep come July. How's that sound?

Now obviously I'm not going to make you do this with just two days notice. If I had come up with this challenge a week earlier, I could've run the challenge all this week and had it end on Easter Sunday, which would've been more appropriate. But I didn't come up with this until last night, so what we're instead going to do is have this run through next Sunday, April 14th, this way you have a whole week to come up with an idea and make the time to execute it. And hey, this gives you an extension on the whole coloring eggs thing still being socially acceptable, so hooray!
So again, decorate an egg in honor of one of your favorite horror movies, send a picture of it to me at MORTIS45@AOL.COM, and you'll be entered into a drawing to win Trick Or Treat Studios' upcoming Halloween 2 mask. Now get to it!
Oh and be sure to hard boil your egg before you decorate it ...