After a limited theatrical run which began last December, followed by a widespread On Demand release, I'm happy to report that
The Innkeepers
is at long last hitting DVD & Blu-ray tomorrow. Now I've pretty much said all that I have to say about the movie, given that I not only
reviewed it
but even recapped my super awesome
trip to the Yankee Pedlar Inn
, the hotel where it was filmed, so tonight I turn the floor over to my good friend Kristy Jett, who has something pretty special for you all to celebrate the home video release of the film.
Kristy got the chance to have a nice little phone conversation recently with Innkeepers star Pat Healy, the man who I think it's safe to say all geeky girls who watch the movie will fall in love with (while all geeky guys watching, like myself, are falling in love with Sara Paxton). Kristy has essentially split up that phone interview into three parts; one to be posted over on Strange Kids Club, one on The Liberal Dead, and the other right here on Freddy In Space. How cool is that!?
So without further delay, here is a nice little piece from Kristy about her chat with Pat (ha!), along with her incredibly enthusiastic thoughts about the film, thoughts which are echoed by yours truly!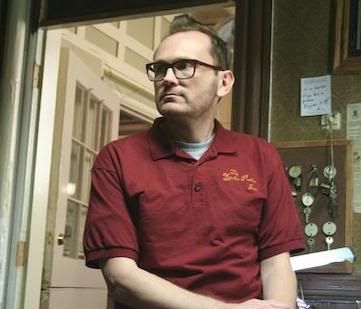 I cannot tell a lie. I got giddy like a total dweeb when I found out I had an interview opportunity with Pat Healy. Not just because he is the Pat Healy. But because finally after months and months of waiting to see The Innkeepers; after missing it theatrically both times it played near me, and being one of those silly people without cable, forfeiting my OnDemand privileges- I saw it…and LOVED IT. As of right now, at 11:23 p.m., Sunday April 22nd, 2012, it is my favorite film of 2012. I can't say this won't change before the end of the year. Who's to know what could transpire between now and then? But right now, this moment in time, it is, and I want to spread the gospel of The Innkeepers far and wide. Consider me some mangy Mormon holding my Blu-ray in front of me like a bible. This is my proclamation. Watch The Innkeepers as soon as you can. Since it's about to come out on DVD and Blu ray, Tuesday, April 24th to be exact, you'll have no excuse not to run out and buy it. Or for sake of ease, you can just type your way over to Amazon and grab it for the insanely low price of $13.99 on Blu-ray or $12.99 on DVD.
So now on to the important part, my interview with Pat Healy!
Confession time…I creep on Pat via Twitter. He says some of the funniest stuff and I've laughed heartily many times at his way with words. I'd point to some of these examples, but why distract from the pertinent stuff? I had the chance to chat with him via Skype for almost 45 minutes last week (Many thanks to Daniela from Dark Sky for helping to arrange said interview by the way).

Within the first 5 minutes (and yes, I can reference the exact time because I recorded it for posterity) I was already coming off like The Chris Farley Show, "Do you remember that time in The Innkeepers when you walked up behind Claire and you were like 'I'm right behind you' and she flipped out? That was awesome." Ok, it wasn't that bad, but in my mind that's how I sounded. Even listening back it's not that bad, but for dramatic purposes let's pretend it was. Only Pat Healy and I will ever really know the truth.
Immediately we got to talking about the brilliance of director, Ti West. You'll remember him as directing the modern day masterpiece, The House of The Devil, and once you watch The Innkeepers (ya know that movie coming out on Tuesday, April 24th), you can marvel at his brilliance once again. The thing I love most about this film is how the anticipation and suspense is more fun than the actual scare itself. This is something I immediately loved with House and almost as soon was beaming about in The Innkeepers.

Pat agreed and went on to say, "There are so many ways that horror is predictable, and a loud sound and something jumping out at you will always make you jump but is that really scary?

And Ti, if some of these contemporary horror films are post-modern, then Ti's style is post-post modern where it's like some things are retro and a throwback to the way things were before. Other things are like the girl is looking in the bathroom mirror and she closes it and the monster is there, or there's the other film where she closes it and nothing is there, but she turns around and there it is. And Ti's looking at that and saying, "Ok, well what now?" and sometimes the answer is to hold onto it for an unbearable length because people aren't expecting that now. It can be unbelievably frustrating for some people, but I think that people who really appreciate suspense know that he is quite masterful in the way he handles it."
After that our conversation led to me bringing up the inevitable- the naysayers, and the people who don't like a slow burn film. They want their scares and their gore and they want to get out. Pat makes a lovely point, "There's a time and a place for all of that. I like gore films too, but this kind of film, Roman Polanski made movies like this and other great masters of film like Hitchcock, understood suspense and it's a real skill and I just appreciate a movie more like that."
Then it was on to my major point of frustration- the people who I had to watch on social networking whine about how the pay-off isn't enough and isn't worth it when we get to it. I'd been seeing and hearing this for months, so much so that I worried about it before seeing the film. Pat spoke on this too and really made the greatest point of our entire talk, "There's this big thing now in film criticism, both amateur and "professional," where it's fair for people to judge a film on what it's not. 'Well, I thought it was going to be this and instead it was this,' but this film, is it successful on what it actually is? Yes, I think it is. I'm biased obviously. I will say I have noticed a difference between people who have seen it in a theater full of people as compared to the people who see it at home; it's just a different experience.

Still, the best way to see a horror movie, or a comedy or an action film is with an audience. You get to see that way that so much of the thrill is the ride itself, and you're not just sitting there waiting for the pay-off at the end or the twist- you just went on a great ride. At the end of a roller coaster they don't tell you that the roller coaster you were on is really a spaceship. You just had fun because you were on a roller coaster. That's the pay-off- the journey. And on those terms, I love the film."
We talked a bit more about how he and Ti became acquainted and how the film came to him. Then we touched on something that really interested me. Pat sort of started talking about it before I even had a chance to ask the question. Spoiler alert, avert your eyes and skip to the ending if you don't want it ruined.
There's a scene where Luke (Pat's character) and Claire (Sara Paxton) are up late at night and they're drinking. And in a tender moment, Luke hints that he has feelings for Claire, and she unknowingly rebuffs him.

Me being the hypothetical queen had to ask if he thought that Luke really had feelings for Claire or was it a last ditch, "Last night, might as well" sort of thing. To my elation he had an answer, "In my preparation for the film, which involves reading the script and making decisions about the character, I came to find that he really did have feelings for her. In that compressed situation, he has these feelings but they're totally wrong for each other. He could probably recognize that if he stepped back but that's him, that's his life. She's a person he knows and she is nice and she pays attention to him and he really has those feelings for her and they become really intense. When you go into a film you don't say 'Oh, this is a horror film or this is a comedy,' not if you really do your work and prepare and you're truthful to the character. If I were to describe the movie from Luke's point of view I would say it were a tragic love story, he has unrequited feelings and he doesn't say anything about it til it's too late. That's also a theme of the film itself."
I was even more interested when he went on to say that the night he shot that he tapped into his own feelings at the time of shooting. It was late and he was feeling raw and open and sad and hurt. I am always so awed by the performances actors give, and to know that little bit of insight makes his performance all the more marvelous.
Real talk (yes I am half-handedly trying to channel Dream Warriors). This is possibly my favorite interview that I have had the pleasure of conducting.

It is strange to speak with someone you've been watching for years, especially when they're as down to earth as Pat Healy. You would almost expect them to be full of themselves and talk down to you, and you wouldn't even be surprised. Luckily this was not at all the case.
What have we learned? Pat Healy is awesome and you should go and watch The Innkeepers as soon as possible. You also learned that it comes out on DVD and Blu-ray, Tuesday, April 24th. Go forth. Preach the gospel I have quoted thee.
_______________________________________
Kristy speaks the truth; The Innkeepers is one horror flick you're not gonna want to miss this year!
Oh and speaking of which. Kristy's not done with the Innkeepers fun. Not by a long shot. Keep your eyes peeled around these parts tomorrow for a giveaway of a limited edition promotional Blu-ray of the film, in kickass gatefold packaging. You can't get your hands on these outside of giveaways 'round the web, so let's all offer up a huge thank you to Kristy in advance for snagging one for us!