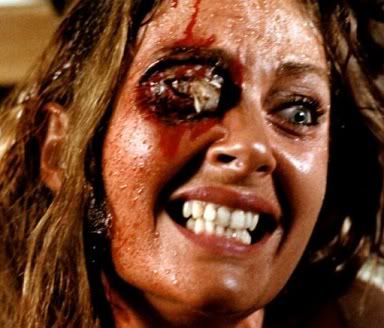 I'm always racking my brain for new recurring features to play around with here on the blog, and inspiration for a brand new one hit me smack over the head while I was watching Syfy's
Monster Man
tonight (sadly, the final episode of the season). Being a big time practical effects aficionado, I thought it'd be fun to take a behind the scenes look at some of the best practical effects in horror history, and expose how the effects masters pulled those incredible effects off. Kinda like those TV specials where the magicians wear the creepy masks and reveal the secrets to their so called magic. Except much cooler. And bloodier.
By compiling as much information as I can about the creation of some of my favorite effects, along with whatever behind the scenes photos I can find, my plan is to answer the question we all wonder to ourselves whenever we see an incredibly gruesome effect in a horror movie ...
HOW THE HELL DID THEY DO THAT?!
For the debut installment of this feature, I thought it rather appropriate to profile one of my personal favorite gore gags in horror history, an effect which never ceases to make me cringe and ask myself the very same question I'm here to answer tonight. So let's first take a look back at the infamous splinter to the eye scene from Lucio Fulci's
Zombie
, and then we'll find out exactly how it was pulled off!
I can vividly remember the first time I ever saw Zombie, and the disgust and shock I felt when I watched this scene play out. The way that it never cuts away and shows each and every agonizing second of this horrific act go down is downright astonishing. Very rarely do you see an effect like this in a horror movie, where it seems the makeup effects artists have absolutely nothing to hide. It's one of those effects that's always hard to believe is merely an effect, which is pretty much the greatest compliment a gore effect can ever be given.
So, how'd they do that?
Well, obviously actress Olga Karlatos was not actually impaled on a big ass wooden splinter, even though it totally appears that way. The makeup effects artist on the film was frequent Fulci collaborator Gianetto De Rossi, who used a lack of money and a whole lot of ingenuity to turn this effect into something more gruesome than any bigger budget horror flick could ever come close to.
De Rossi's idea was to make a replica cast of Karlatos' head, which would quickly be swapped in for her real head when the time was just right. Only problem was, the fake head wasn't completed when it came time to shoot. Only a small piece of the head was finished, but since the shot of the wood going into the eye was going to be in close-up, for maximum effect, De Rossi knew he'd be able to work with it.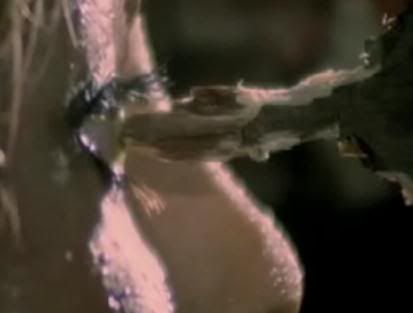 So the Italian makeup master grabbed some Plasticine, the putty-like material used by morticians to reconstruct dead people's faces (how fitting!), and fashioned himself an eyeball out of it, which was colored to look like Karlatos' real eye. The wax eyeball was placed into the piece of the dummy head that was finished, and De Rossi himself pushed the piece into the wooden splinter when Fulci yelled action, twisting and turning it towards the end so that the splinter would essentially force the eyeball right out of the socket. Obviously, the scenes of Karlatos right before and right after this tight shot of the gory action were filmed first with her real eye being put up somewhat close to the splinter and then afterwards with an appliance slapped onto her face, which you can see in the behind the scenes photo at the top of this post.
Though the scene is fairly bloodless, De Rossi outfitted the prop head piece with tubing filled with egg whites and fake blood, to simulate the mixture of pus and blood that would come out of one's eye if it were to be poked in such an extreme manner. Cause, ya know, Italians just kinda know what that'd be like.
And that's how it was done!
Let's round this out with a couple little fun facts about the scene ...
-
Zombie
was #98 on Bravo's 2004 TV special '100 Scariest Movie Moments', with this scene being the reason it was chosen.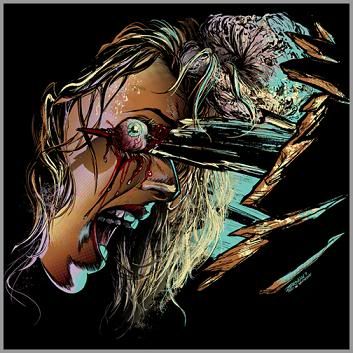 - Fright Rags made a shirt in honor of the scene. Though it's currently out of print, you can vote it back from the dead in the
Fright Rags graveyard
!
- The White Zombie song Electric Head Part 2 features the line, "a fistful of hair and a splinter in the mind", an obvious nod to this very scene.
- Remember that scene from Planet Terror where Tarantino has a giant piece of wood jabbed through his eye? Yep, that was also an homage to Zombie.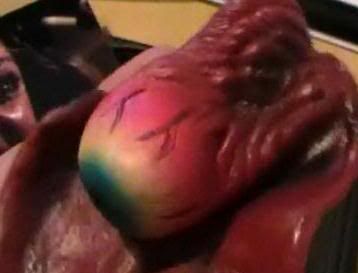 - And finally, perhaps the coolest little factoid of all is that a German DVD release of Zombie actually came packaged with both a small replica piece of wood as well as the torn up eyeball facial prosthetic seen above. How's that for a DVD extra?!