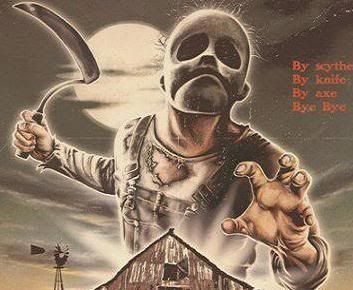 I briefly touched upon this earlier this morning
over on Facebook
, but excuse me while I rant a bit more at length here tonight ...
As I've been talking about for the past several months now, the makers of Behind The Mask : The Rise Of Leslie Vernon, the wildly original and incredibly brilliant horror flick from 2006, are hard at work trying to bring Leslie back to life for a prequel/sequel, titled Before The Mask. What's stopping them? A lack of funding, which has resulted in them seeking help from the fans, selling pre-order DVD packages, film props and whatever else they can to try and raise the money needed to get the film made. Yep, even though Behind The Mask was a major success among genre fans, a follow up may never get made. That's the sad truth of it.
So you can imagine my horror and disgust when I logged onto Dread Central this morning and discovered that a FOURTH sequel to Wrong Turn has just been green-lit. It appears there is enough fan demand for it and enough money has been made off of the series to generate a fifth installment, and yet there the script for Before The Mask sits, in a desk drawer somewhere unable to find its way in front of a camera. To this I simply must ask; how the fuck does this happen?
I'll tell ya how it happens. It happens because us horror fans continually support unoriginal crap. We spend nearly all of our free time bitching about sequels/prequels/remakes and yet what do we do? We go out and support every goddamn sequel, prequel and remake that gets made, even moreso than we support the original horror movies that come down the pipeline every so often. This is exactly the point the brilliant Cabin In The Woods was making, and the fact that it didn't make nearly as much money at the box office this past weekend as nearly all the past horror remakes have is proof positive of the fact that we may act like we want original horror, but when it comes time to shut up and nut up, we're not all there to support the kinda stuff that we should all be there supporting, whether 'there' is at the theater or plopping down the dough to buy a DVD or On Demand rental.
And that is exactly why we keep getting the kinds of movies we all continually bitch about; because they're the ones that make the money. Because we support them, whether we even realize it or not.
So here we find ourselves, horror fans. A fourth sequel to Wrong Turn, which had no problem whatsoever getting funding, is now headed our way. And Before The Mask is in serious jeopardy of never entering our lives, its fate entirely in our hands. This is one of those times where we need to put our money and our support where our mouths are. This is one of those times where we truly have the power to get an original horror film made, and to show the studio system that we are here to support the genre and that we will give money out of our own pockets so that we can get genre fare that's a little more outside the box than a fourth sequel to a movie about a group of friends going into the woods and running into hillbilly cannibals. Now's the time to nut up or, quite frankly, shut the fuck up. We either stop complaining about unoriginal horror entirely or we actually rise up and do something about it. And now is the absolute perfect time to do the latter, if that's what we truly want to do.
I feel like I keep repeating myself and believe me, I know that I do. I've gone on similar rants as this one in the past and I've made countless posts urging you guys to support
Before The Mask
. If you're sick of me going on about all this stuff, I understand and I apologize. But believe me when I say that me continually going on similar rants is not because of a need to rehash content out of a lack of having nothing else to say, it's entirely because of the urgency of us all helping to get a film like this made. Times like these are so important for the landscape of the genre, which is the only reason I rally so hardcore for them and beat you guys over the head about them. If my words can get even one person to donate each time I talk about this cause, then quite frankly my time spent writing up posts like this one are well worth it to me.
So if you truly do want original horror, and don't just want to sit back on your ass and bitch about unoriginal horror, then PLEASE head over to the
Before The Mask Facebook page
and/or the
Before The Mask web store
, where you can donate money to the cause and get some sweet swag in return for your generosity. If every horror fan who wants to see this movie get made donates even just a few dollars from their pocket, the film will find its way in front of the camera later this year, so don't think you have to go all out here and single handedly pump hundreds of dollars into this project. It's true that none of us should ever have to pay to get a horror film made that we're then going to have to pay to see, and it's also true that this movie is far above being a charity case, but unfortunately that's the way things have to be with this particular project, and the only way it will ever come to fruition. Help out because you love
Behind The Mask
and because you love the horror genre.
Just want to wrap this up by saying that I don't mean to particularly target the
Wrong Turn
films or suggest that we shouldn't be watching them. Hell, I love the second one and am a fan of the first as well. Third blew HARD, haven't seen the fourth yet. Anyways, there's obviously a place for films like these and I tend to have a blast watching generic backwoods horror, but it just frustrates the hell out of me to see a franchise like
Wrong Turn
get a new sequel almost every year, while an incredible ground breaking film like
Behind The Mask
has been trying to get one made for well over a year now, and just can't seem to get it off the ground. It just boggles my mind and doesn't seem right to me.
So I hope this didn't come off like an attack on those films, but more the call to arms for support of
Before The Mask
like it was intended to be. The film needs us. The genre needs us. Let's be there when we're needed most.
End rant.