My love for
Fright Rags
and the change they essentially brought about in the world of horror movie based t-shirts has resulted in this here blog becoming a bit of a one stop place to go to find out about some of the coolest horror shirts out there. I say that not out of any cockiness or self importance, but rather because I'm proud of the fact that I've kinda become the horror blogger who's always talking about cool shirts (perhaps to a fault!), which again all started with me promoting Fright Rags to the point that they eventually just accepted me as one of their own. You guys had no choice. You really didn't. (Love you!)
So yea, it's kinda become a personal mission of mine to find the coolest horror shirts I can, and spread the good word about them, which I've spent many a night in the past several years doing. Tonight, I've discovered an entirely new company, which hails all the way from Spain. The company is called Malgusto, which according to Google translates, here in the states, to bad taste. For a company with such a name, they sure as hell have some pretty good taste in movies, and in t-shirts.
Check out some kickass camisetas de terror from Spain's Malgusto, which quite fittingly begins with a look at their shirt for Peter Jackson's Malgusto ... err ... Bad Taste!
PLAN 9 DEL ESPACIO EXTERIOR!!
CHUPARME LA POLLA!!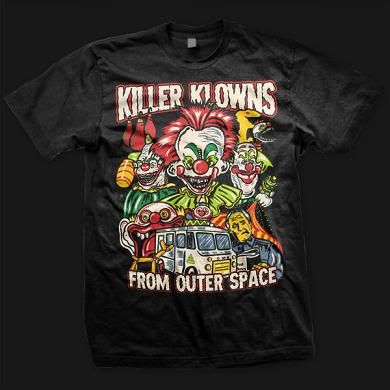 ASESINO KLOWNS DESDE EL ESPACIO EXTERIOR!!
NOCHE DE LOS PELOS DE PUNTA!!
You're probably right now asking yourself the question Americans like myself always ask ourselves when we find cool shit on the internet that's from a different country; can we have it shipped to us and if so, how the hell do we figure out how much it's gonna cost?
Yes, Malgusto does ship anywhere in the world, including del espacio exterior if need be. Most of the shirts pictured, except for Bad Taste and the glow in the dark Plan 9, are currently on sale for 11.95 Euros, which translates to around $15. The aforementioned Bad Taste & Plan 9 shirts, as well as most other newer shirts, are a little higher at 19.95 Euros, or around $26. As for payment and shipping, you can pay by Paypal and it'll cost you somewhere around $8 to have a shirt shipped here to the states. If you're in Europe that cost is cut in half and if you're in Spain, the shipping is free.
There's also something on the site about a free Freddy logo shirt (pictured up top) with orders, though I regret to inform you that I slept through most of my Spanish class in high school, so I no understande what it says-o. #wasthatoffensive?
Head over to
Malgusto
to pick up any of these shirts and to see what else they've got to offer!