A few weeks back, I received an e-mail from a reader by the name of Collin, who said his friend Courtney had recently started a horror themed cupcake company called Evil Treats. Damn, that was a lot of C's. Collin Courtney Cupcake Company, say that 5 times fast!
Anyways, he was wondering if I would like him to put me in touch with Courtney, who would possibly be up for sending some treats my way for review. Being that all I ever really get to review around here is movies, action figures and things of that sort, my dimply cupcake loving ass lit up at such a thought. I never thought starting a horror blog would ever afford me the opportunity to eat some tasty cupcakes, and you bet your ass I wanted me some tasty cupcakes. It's a tough job, but somebody's gotta taste these things and determine if they're good for the horror fan masses, I figured!
A few e-mail exchanges later and the above package of four Evil Treats arrived on my doorstep this past weekend, which was of course quickly consumed by yours truly. Tonight, I'm here to report the findings of my ever so refined taste buds, which admittedly have been badly scorched a few too many times from overheated Hot Pocket filling. But first, a little bit of information about the company!

Evil Treats was started by self taught baker/horror fan Courtney Flynn just this past October, with a pretty simple company aim; make delicious cupcakes and other confections with a horror twist, not just around Halloween time but all year round. Based out of Syracuse, NY, Courtney has already whipped up her unique brand of cupcakes for various horror film festivals, roller derby games and other similar events where people in attendance would dig the idea of feasting on morbid looking cupcakes. And boy do people ever seem to dig on Courtney's treats. She says the company 'blew up over night' and she's currently got a whole lot of business coming her way, including plans to vend at upcoming east coast horror conventions and even a gig making cupcakes for Kane Hodder himself. What's good for Jason is good for the rest of us, says I.
Now that the getting to know you business is out of the way, let's dig into some cupcakes. Here's a closer look at the four pack of tasty cupcakes Courtney whipped up for me and sent my way. Be jealous, be very jealous.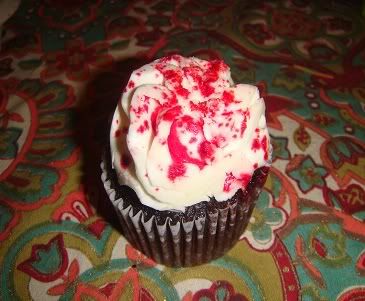 This first one is your traditional chocolate cupcake with vanilla buttercream frosting ... traditional aside from the blood splattered all over top of it!

Courtney calls this the 'Brain Hemorrhage Cupcake'; a pink vanilla cupcake with pink buttercream brain frosting and a cherry 'brain hemorrhage' on the inside.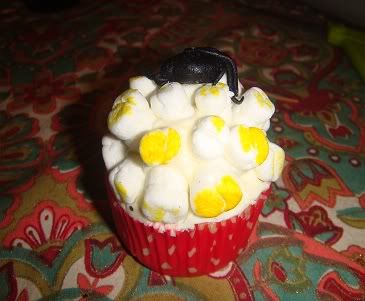 These popcorn flavored cupcakes, with an edible spider decoration on top, were created for a screening of the film Popcorn (how apropos!). The popcorn cupcake has a salted buttercream frosting and marshmallow popcorn on top.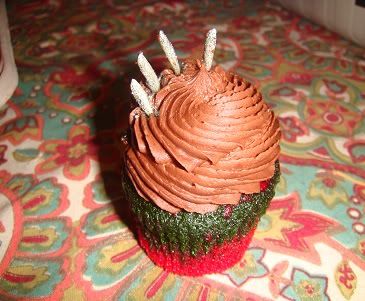 And finally, the Freddy cupcake, a red and green vanilla swirl cupcake with chocolate frosting and edible razor fingers bursting through the surface (at least, I hope they were edible...). My apologies to this cupcake for taking a photo of it without its little skirt on, but I simply had to show off the kickass sweater swirls! #cupcakeporn
Now I guess the moment of truth here in this post is right here right now, when I share my thoughts on how the cupcakes tasted. It's plain to see that they look awesome, and totally live up to the name and idea of the company, but how do they stack up in the taste department?
Well, I'm no food critic by any means, but as a dude who loves cupcakes and has eaten more than his fair share over the years, both made from scratch and from the box, I gotta say, these are damn fine cupcakes. The two qualities I personally look for when it comes to cupcakes are a moist cake and a delicious frosting, both qualities that these Evil Treats deliver on in spades. The cakes themselves are incredibly moist and tasty and the frostings are absolutely delicious. Frosting can make or break a cupcake for me and Courtney quite obviously doesn't scoop hers from a Duncan Hines tub of factory made frosting. Her frostings are fluffy, creamy and off the charts good. Oh and as for that uniquely flavored popcorn cupcake, I'm happy to report that it totally does taste like Courtney magically transformed a bucket of popcorn into a cupcake. Yum yum!
I made quick work of all four of the cupcakes and now that I've gotten the full Evil Treats experience, I feel comfortable slapping the illustrious (but not really..) Freddy In Space Seal Of Approval all over these delicious confections. Again, I'm no Florian Bellanger here, but I know what I like and I for damn sure like and approve of these cupcakes.
So, how can you get a hold of your own Evil Treats? Being that the company is entirely internet based at the moment, you can literally have Courtney send her concoctions to you anywhere in the country. There is an
Evil Treats Etsy shop
that currently has all sorts of chocolate treats up for sale, including brains and even dentures, and if it's cupcakes you're looking for, you can drop Courtney an e-mail at
EVILTREATS666@YAHOO.COM
. Tell her Freddy In Space sent you and give her a list of the cupcakes you want to try, be it ones you see above or even custom requests, and she'll be happy to hook ya up. If you're looking for any horror themed cupcakes or desserts for absolutely any occasion, whether it's just a few for yourself or oodles for an event, make Evil Treats your one stop shop!
Oh and if you're thinking it's a little weird to eat cupcakes that have been shipped to you, I assure you that I had the same sort of feelings, but that you're in good hands here. Courtney takes a lot of care in getting these out to people, not only
when it comes to packaging them
to ensure they arrive looking pretty, but also that they arrive as quickly as possible, so they're as fresh as can be when they get to you. So get over it and be happy that you live in a time where your lazy ass can get cupcakes shipped right to your doorstep!!
Courtney, thank you so much for the cupcakes and for the
kickass t-shirt
, which I will rock with pride. Keep on doing what you're doing!!