I think it's time once again to dig through the Freddy In Space Vintage Toy Box and find ourselves another gem from the past. If you agree, then come play with me!
OK that sounded kinda creepy but, umm, yea. Let's dig in!
Ah, what do we have here? Is it Play-Doh's Count Creepyhead & Friends playset? Why yes, I do believe it is!
When you walk into your local Toys 'R Us nowadays, you are likely to find several shelves stocked with a multitude of different Play-Doh kits, allowing you to make delicious smelling shit color changing versions of everything from Star Wars characters to fast food treats. Hell, they even have one kit that comes with a faux human head and a drill, the former of which you add Play-Doh teeth to and dig into with the latter.
But as cool as being a kid must be nowadays, and channeling your inner Corbin Bernsen by doing crude dental work on a dude is pretty damn cool, being a kid of the 80's was a whole lot cooler.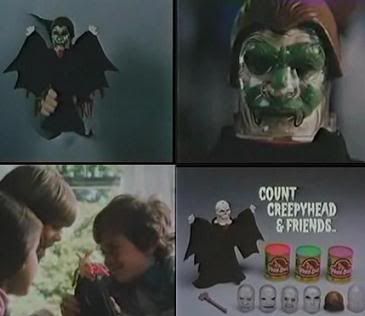 In 1984, then Play-Doh owners Kenner decided to get in on the monster/gross out phase with Count Creepyhead & Friends, a kit that allowed kids to Play-Doh'ify(?) their very own monster squad.
The kit came with a plastic skeleton structure, clad in a Dracula robe, along with several different monster masks, a few jars of Play-Doh, and a couple accessories including a battle axe and a Donald Trump-esque hair piece. The basic idea was that you loaded a Play-Doh color of your choosing into the detachable skeleton head, placed your choice of a monster mask over top of it, re-connected the head to the body and then pushed down on your skeletal pal's arms, which would literally inject the Play-Doh from his skull into the mold. When you removed the mask, you'd have yourself a snazzy little Play-Doh monster head atop your skeleton's body, with very little work on your part turning you into a mini Jack Pierce. Something tells me a young Tommy Jarvis spent a whole lot of time up in his room playing with this kit. Ya know, before he grew up and turned into a different person. And then turned into a different person again.
Once your mask was sculpted, you could either continue to push the arms down, which would essentially explode the mask off Skeletor's face, or you could do the dirty work yourself and give the little guy a House Of Wax style facial peel, removing the monster head by hand and exposing the skull underneath, which Kenner even sculpted a brain into. Hell, if you wanted to get real nihilistic and mean, you could even carve the face off with the included battle axe. Be my guest. The other option was to defy all the rules and place no mask on top of the skull after filling it with Play-Doh, and then make the skeleton do jumping jacks, which resulted in the gooey colored stuff being ejected meat grinder style out of every hole in his pretty little skull. The choice was entirely based on your level of childhood angst.
Since visuals speak better than my words ever could, check out the original commercial for Count Creepyhead, which shows you everything in action that I've just described!
These days, complete sets of Count Creepyhead and his pals go for
around 100 bucks on eBay
(credit to this particular auction for the above picture of the nude skeleton!). May seem steep for a Play-Doh kit, most of which retail these days for about $20, but if you're asking me that's a small price to pay for such an awesome relic from a time gone by. You just can't put a price on the 80's.
Until next time, we now return the Freddy In Space Vintage Toy Box to its locked position and let it collect a few more cobwebs. What will we find next time we open it up? Well you'll just have to come on back to find out!
*Insert generic evil villain laugh*