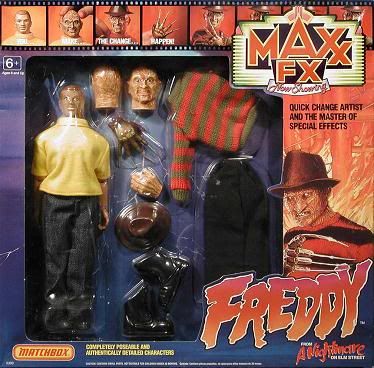 If your childhood was anything like mine, that image up there likely brings back a flood of memories. The MAXx FX Freddy doll was put out by Matchbox in 1989, giving fright fans the opportunity to become a makeup FX artist in their own bedroom by literally turning an ordinary Ken doll into the dream demon. The MAXx FX line was created to capitalize on the Fangoria fueled makeup FX frenzy of the time, with a whole series of monster appliances planned for production. If you're wondering why the only one you can remember is Freddy, rest assured, your memory is not failing you. Freddy was in fact the only MAXx FX doll that ever actually saw release.
This here post you're reading right now was not intended at all to be what it has ended up becoming, and I say that in the best of ways. I recently caught wind of a prototype Alien (as in, the movie) MAXx FX doll that was supposed to come out back in the 80's and as I began to research, compiling information for a possible post about that doll, I ended up falling down a rabbit hole of unproduced awesomeness the likes of which quite frankly shocked me. Long story short, the Alien doll was only the beginning ...
My research led me to a site called
The Life and Death of MAXx FX
, a blog run by Mel Birnkrant, the creator of the toy line. It was there that I realized Mel had created a whole line of monster make-ups for ole MAXx, which never saw production for various reasons. And in fact, the Freddy doll that did get produced wasn't even the Freddy doll Mel originally created. It's a long and fascinating story, and I fully encourage you to head over to his blog to read all about it. But tonight I just want to quickly sum up the story, as well as show off some awesome images of the figures we almost had in our lives.
So here's an abridged version of the rise and fall of MAXx FX!
Mel's original idea for the line was called "Max Miracle, Master Of Make-Up & Special Effects", which was eventually shortened to MAXx FX. The concept was simple; take a fully articulated GI Joe style action figure and package him with snap on alliances that allow consumers to transform him into a special FX movie monster.
In 1988, Mel began sculpting the figures, an original line-up of seven (above) which included generic monsters like a mummy and a wolf as well as licensed slashers Freddy and Jason. He also created a 'Miracle Productions Movie Van', which was both a storage case and action vehicle for the dolls. It was to essentially be an all in one movie studio, with special sound and lighting effects as well as backdrop scenes that could be changed to put your monster into different environments. The whole idea being to give kids the opportunity to not just make their own monsters, but give them the feeling of making movies with them too.
Here's a little image gallery of the original Freddy & Jason prototypes, which shows them off in greater detail!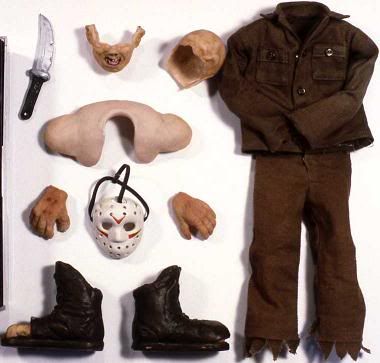 After these prototypes were created, along came toy company Matchbox, who quickly bought up the property, wowed by Mel's presentation of the line. It soon became clear to Mel that Matchbox knew nothing of the horror genre, immediately eliminating Freddy and Jason from the line and commissioning him to instead make a whole line of Universal Monsters themed dolls/parts, since that was really the only type of horror movie they knew anything about.
They also acquired the rights to Alien, and Mel went to work creating four entirely new dolls; Frankenstein, Dracula, The Creature From The Black Lagoon & an Alien Xenomorph. Since Mel personally felt the Universal Monsters were no longer all that scary, he decided to put his own spin on the monsters, with his Creature quite clearly inspired by the one seen in The Monster Squad, a film he openly references on the blog.
Rather than upload a bunch of pictures of the dolls, instead hit the play button below to check out a video Mel filmed of the new line of prototypes Matchbox had him make. The end of the video also features appearances by his original Freddy and Jason dolls, which Matchbox wanted nothing to do with!
Before long, it was time for the 1989 Toy Fair, where Matchbox was set to unveil the MAXx FX line, which they did. They showed off several of Mel's designs at the show, including the ones seen in the above video as well as some of his original generic monster designs, and they were even telling people that Freddy and Jason would in fact be a part of the line, presumably because someone informed them that those characters were hot commodities that would make them money. They even unveiled a 'Special FX Theater' playset, which was essentially the van idea only without the van.
Here's another awesome little vintage video, which Matchbox showed at Toy Fair '89!
Unfortunately, none of what you just saw ever came to fruition.
Matchbox eventually for whatever reason decided to do away with all of it, and instead release the Freddy Krueger MAXx FX doll we all know, made of a much cheaper quality as Mel's prototype and looking a lot less badass. On the back of the package was an advertisement for the full line, which was to consist also of Dracula, Frankenstein & 'The Alien', though none of those other three ever actually made it to market. Why? Because Matchbox right around the same time decided to release a talking Freddy doll, which pissed parents off to the point that they just threw the whole damn MAXx FX line right out the goddamn window to avoid any further negative attention.
And thus, a watered down version of Mel's original Freddy forever remains the only figure ever released of this awesome toy line that almost, but not quite, was.
Again, I strongly recommend you head over to Mel's blog
The Life and Death of MAXx FX
, as it contains the complete story, from his point of view, and features a whole lot more imagery. Enjoy!