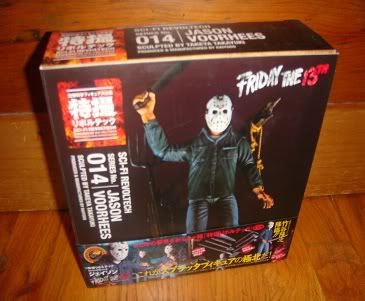 The great thing about tax returns is that they give you the chance to buy some things you've wanted to but haven't exactly been able to afford to. Back in October of 2010, Japanese toy company Kaiyodo released the above Jason Voorhees figure as part of their Revoltech line, a line of super articulated action figures. For two years I've wanted to add it to my collection, but I've never been able to justify the hefty price tag. In the battle of eating for a week versus buying a toy, food unfortunately always wins out. Or almost always, at least.
But now that I've finally got some spending money in my checking account, I headed over to Amazon and picked this bad boy up last week, for $44.95. Is it worth that much? Let's release Jason from his plastic prison and find out. I generally like to keep my figures in their packages, but I've got a feeling this one's gonna be better off set free!
As you can tell by the above image, this is essentially an entire Jason playset, as opposed to merely an action figure. Based on Voorhees' look in Part 3, the film where Jason actually became the hockey mask wearing mawfucka' we all know and love, this playset comes with not only a barn set piece to display the figure on, but also a slew of weapons, as well as interchangeable heads and masks, allowing you to display Jason both before and after the axe blow to the head he sustained at the hands of final girl Chris Higgins (the sexiest Friday final girl of all, if you're asking me).
Featuring 12 ball joint points of articulation, the basic idea of this interactive playset is that you can display Jason in pretty much any pose you want to, holding any weapon you want him to hold, looking healthy and happy or bloody and near death, and even holding Higgins' severed head if you so please. He is your puppet. You are his master.
Wait a second. Chris Higgins' severed head? But Jason never cut off Chris' head in the film, you may be saying to yourself.
No doubt one of the coolest things about this toy is the inclusion of this little prop, a reference to an original ending that was at one point planned, but never made it into the film. Rumor has it that the scene was in fact shot, but the footage was somehow forever lost. Here's a
behind the scenes image
of the scene being set up.
So yea, that's fucking awesome. But back to the toy!
I was fairly surprised by how tiny this figure is, measuring a mere 5 inches tall. That said, I was incredibly impressed to discover that even at such a small size, the detailing is absolutely incredible, right down to creases in Jason's clothing and veins on his dirty little hands. It's not often that you see that kind of detail put into such a small figure, and this one literally looks like the sculptor plucked Jason right out of Part 3 and shrunk him down to 5 inches. That's how amazing both the detailing and likeness are. There have been countless Jason figures released over the years, and this is truly one of the best I've seen in terms of likeness. Again, it literally feels like you're holding a mini version of Jason himself. It's almost even eerie how lifelike this thing looks when you put it into certain poses.
The only downside of the figure is that despite its incredible level of articulation, the actual poses Jason can be put into are still fairly limited. For example, he's not very limber at all at the waist, with any attempts to put him into a seated position ending with his lower half being separated from his upper half. The figure always snaps right back into place, but this separation of body parts often happens when you try to pose him. That said, you can pretty much put him into any standing pose you want, and when is Jason ever sitting down anyway? So that's really a minor gripe, mostly a result of my strange desires to put my toys into as many weird sexual positions as I can. Still though, it's kind of annoying to have arms and hands fall off when you gently play around with a figure.
I couldn't possibly show off enough pictures to do justice to how many different ways this toy can be displayed, but I've included a few images below to show off the possibilities. As you will see, Jason can be displayed in either screen accurate poses or in whatever goofy ass ways you want to put him in. So here's a little gallery from our photo shoot together!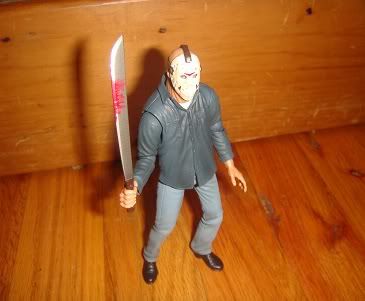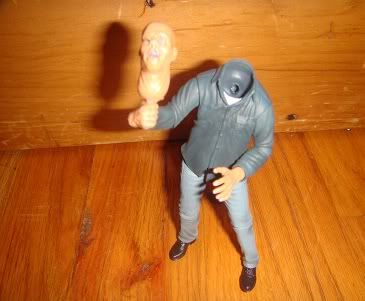 My flash kind of obscured most of the details on Jason's mask/face, so go check out a whole bunch of better photos over on
the Revoltech website
. I'm of course not a professional photographer by any means, and I'm not about to spend hours upon hours trying to get perfect shots, so please do head over there to see this thing done the complete photographic justice it deserves!
So yea, the main selling point here is the incredible versatility when it comes to displaying the figure. While most Jason figures just kinda sit there on your shelf, in the same pose year after year, this one can be changed up whenever you damn well please, which makes it fun as well as incredible looking. Being that it's nearly 50 bucks I wouldn't say this figure is for everyone, but for the hardcore Jason collectors who want every toy out there made in his likeness, this one is an absolute must have. Since I belong in the latter group of people, I don't find myself regretting this purchase in the least. The fact that it's an import from Japan only adds to its awesomeness and collectability.
While I personally tend to prefer bigger toys, I can certainly appreciate and respect smaller ones like this one that possess all the details of those bigger toys, while still having all the mobility that smaller toys usually have. In that sense, Kaiyodo's Jason Voorhees Revoltech is the best of both worlds, and I'd personally love to see them make a Jason from each installment in the franchise. Needless to say, I'd buy them all!