Just got an e-mail from my friends over at
Amok Time
, informing me of several exciting new toys that are now available for pre-order, shipping very soon. You know I can't keep this kind of info to myself, so let's take a look at the figures you will soon be able to add to your toy collections!!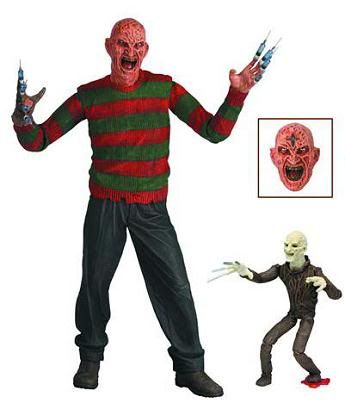 These first four are from NECA, a company which has quickly risen to the very tip top of the world of horror movie based action figures. They've in the past released a multitude of Elm Street & Friday toys, with a clear intent to put out as many different variations of Freddy and Jason as possible. This marks the very first time a baby Freddy action figure has been made, which is pretty damn exciting if you ask me.
All four figures are now available for pre-order for $15.99 a piece. The Jason's are scheduled to begin shipping in August, with both Freddy's coming the following month.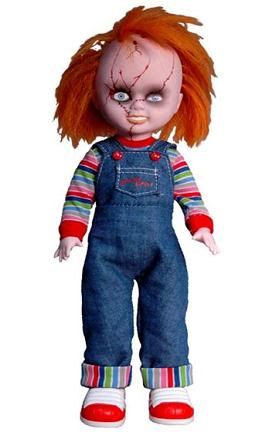 This here is the latest addition to the Living Dead Dolls horror icons collection, which in the past has seen the release of LDD's in the likenesses of everyone from Captain Spaulding to Freddy Krueger. It seems only natural that Chucky himself has now been given the illustrious Living Dead Doll treatment!
Chucky ships in September and can be
pre-ordered
right now for $24.99.
As cool as it is to be able to own action figures depicting characters like Freddy, Jason & Chucky in all of the different looks/outfits they've donned, does anyone else wish some attention would be given to other characters from the films, folks like Kincaid and Crazy Ralph? I know there isn't nearly as much of a market for toys like those, but I'd personally love to see more stuff like Mezco's Debbie Stevens figure.