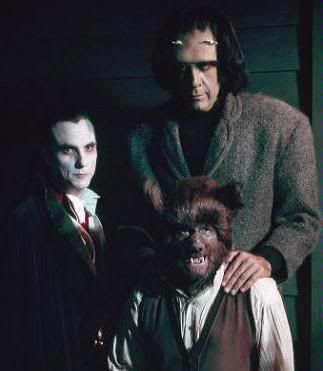 When I say the title The Monster Squad, I'm willing to bet that the minds of most horror fans go directly to the fan favorite flick from 1987 about kids battling the Universal Monsters. But before there was that Monster Squad, there was a whole 'nother Monster Squad, a short lived television series that ran for only one season, back in late 1976.
This Monster Squad aired on Saturday mornings on the NBC network and is totally unrelated to the 1987 film, though they both feature an assembly of famous monsters. The basic idea of the show was that the night watchman of a wax museum, who was also a criminology student, accidentally had a little accident one night with his handmade crime fighting machine, which turned the wax figures of Dracula, Frankenstein and The Wolfman into living breathing monsters. Only, they weren't exactly monsters. Since they were brought to life via the use of a crime fighting device, Drac, Frank & Wolfie in this particular show were a band of crime fighting superheros, sort of like the Avengers of the horror world.
The show was created by one of the head writers of the Batman television series, and basically followed the same formula as that show, with the monsters driving around in their monster van and fighting off super villains like 'Ultra Witch' & 'The Astrologer'. Since a Batman ripoff isn't much of a Batman ripoff without a utility belt, each monster was equipped with one, which featured a device that allowed them to communicate with the Charlie to their angels back at the wax museum.
So this weekend, we head back to 1976 for the retro awesome opening credits sequence of the original Monster Squad. If this brings back memories for you, please leave a comment below and share those wonderful memories with me!!
Surprisingly, given how short lived the show was, a whole lot of merchandise was whipped up for it, some which was released and some which never saw the light of day. You can check out all of those goodies over at
Plaid Stallions
!