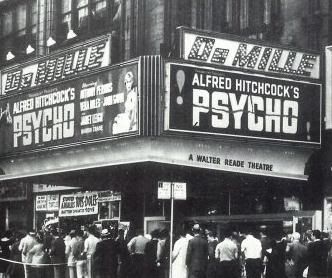 For this week's Vintage Video, we head allllll the way back to 1960, to the June theatrical premiere of Alfred Hitchcock's Psycho. So let's hop into our time machines, get on line and buy our tickets to the show!
Alfred Hitchcock was of course a master showman, a man who understood, much like William Castle, the importance of delivering something special to an audience when they came out to see his movies. This showmanship was perhaps never displayed better than for the promotion of Psycho, where Hitchcock upped the excitement by demanding all who went to see the movie be in the theater when the movie started, and not a second after, for optimum enjoyment. He also encouraged all cinema goers to protect the surprise twists and turns of the film, by not blabbing to their friends after they saw it.
Hitchcock had billboards and posters sent out to theaters to enforce this 'be here on time' gimmick, along with audio he himself recorded to let audiences know why he felt so strongly about the fact that nobody come into the movie late. Though an obvious Castle style gimmick, the main idea here was to generate buzz and excitement for the film, and the effectiveness of the tactic was shown by the opening weekend long lines and box office numbers. I can't imagine a single movie fan in the country who wouldn't be dying to see any movie that promised such mind blowing surprises, especially back in 1960 when things like that weren't really being done. Such was/is the genius of Hitchcock.
So this week, head way back in time and check out this newsreel footage of Psycho's opening weekend, which lets you experience what it must've been like to go see Psycho for the very first time back in June of 1960!
Nowadays, the Hitch must roll over in his grave every time some asshole spoils the surprises and secrets of a film on the IMDb message boards. Good god, have the times changed or what?