For anyone who missed the memo, I opened up the Freddy In Space PO Box a couple weeks back, the address for which can be found over on the sidebar to your right. Rather than giving out my home address to anyone who asks for it, I figured it'd be best to just open a box and let anyone send anything they want there, be it dirty underwear or movies they've made. Also figured it'd be a fun little recurring segment to open up the box live on the blog and share what I've found in there.
Speaking of which, here's the very first package I've received in the Freddy In Space PO Box, courtesy of fellow blogger Hayes Hudson of
Hayes Hudson's House Of Horror
!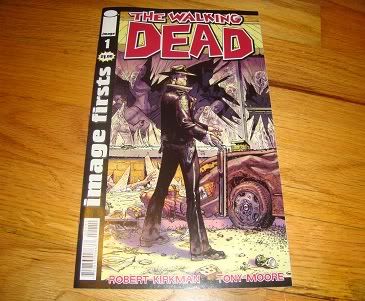 Would you believe me if I told you I've never read a single page of the Walking Dead comic books? Pretty lame of me, eh? This is the 2010 re-issue of the very first issue, the perfect place for me to begin my journey while I wait for Season 3 of the TV show. Kick. Ass.
Killer School Girls From Outer Space poster ... starring Ron Jeremy! Never even heard of this one, but I think I'll have to seek it out!
The Last Man On Earth/Devil's Messenger DVD double feature. Big fan of Last Man but haven't ever seen Devil's Messenger. Lon Chaney Jr. as Satan ... I'm sold!
An assortment of Freddy themed Fright Flicks cards. Hayes clearly knows that these cards are one of the fastest ways to my heart!
And finally, a few promotional items for Hayes' blog, including business cards, a post card and even a magnet. And here I was thinking I was cool for merely having business cards!
Hayes, thank you so much for the goodies and also for the incredibly kind words in your note. Means a whole lot to me to know that I have the support of fellow bloggers in this community. Please know that you've got all the support in the world from me as well!