I worked a loooong day today, from 8:30 in the morning to 7:00 at night. Obviously, it sucked. But when I came home, I was greeted with two packages on the table; one which contained my Amazon order of
The Cabin In The Woods Visual Companion
(I barely was able to tear myself away from it to write this post!) and another box, from reader Jeremy Logsdon.
Jeremy sent me a message on Facebook a couple weeks back, where he told me he was clearing out his house, getting ready for the arrival of a baby, and stumbled upon a whole bunch of horror VHS tapes. He graciously offered to send the tapes my way, being that he didn't have the room for them and knew that my home, which is about as VHS friendly as it gets, would be a good home for them. Obviously, I happily excepted this incredibly kind offer.
So before we even crack into the box, I just want to say thank you so much for sending these my way, Jeremy. I know it's not easy to part with memories like these, but I can assure you that they will be well taken care of; both displayed and watched for years to come in my home. I hope you take comfort in that!
Let's get this bad boy opened up and see what's inside!!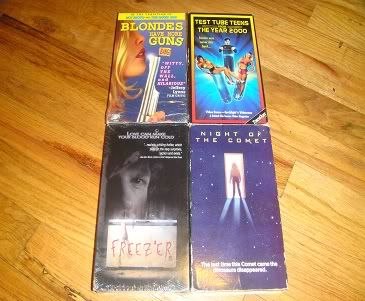 Blondes Have More Guns, Test Tube Teens From The Year 2000, Freezer & Night Of The Comet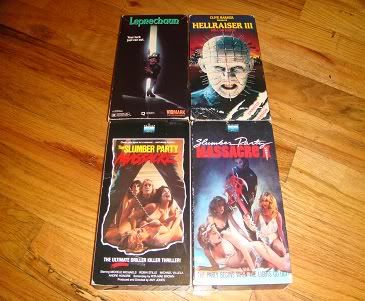 Leprechaun, Hellraiser 3, Slumber Party Massacre & Slumber Party Massacre 2


Cut, The Devonsville Terror, Psychomania & Creepozoids


The Curse, Night Angel, Alice Sweet Alice & The Boogeyman


April Fool's Day, Quicksilver Highway, Cutting Class & Martin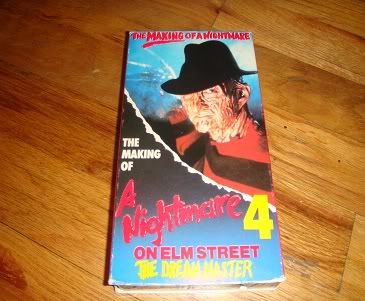 A Nightmare On Elm Street 4 : The Making Of
Lot of cool stuff in this lot, both movies I've seen and love, but don't own on VHS (
Martin
&
Leprechaun
) as well as a whole bunch I haven't seen (
Slumber Party Massacre
&
Night Of The Comet
), and even several movies I had until I opened this box never even heard of (
Freezer
&
The Devonsville Terror
).
But the holy grail here is most definitely the
Making Of
Dream Master
tape, which I have never before come across in my lifelong travels around Elm Street. It's a 50 minute tape detailing the behind the scenes filming of the movie, with what looks to be a big time focus on the makeup effects. This was a TV special that aired on Halloween in 1989, and has never been made available as a DVD extra on any of the various
Elm Street
releases we've seen over the years. Jeremy actually included a nice little note with the package, where he said I was free to do whatever I want with the tapes, except for this one, which "
needs a safe place to live forever.
" Don't you worry Jeremy, this one isn't going anywhere!
Thanks again man and congratulations to you and Tina on the baby. I owe ya one!