Around this time every year, Jen and I like to head out on the weekends and go yard sale hunting for treasures, either by biking around in our town or driving out to other towns. Well, actually, it's kinda something I like to do more than her, but she comes along because she knows it makes me happy. The couple that digs through other people's trash is the couple that stays together, I always say.
So yea, it's getting to be that time where yard sales are beginning to pop up all over the place and I figured I'd start documenting any cool finds I make over the summer, at least the ones that are relevant to the blog (which is probably the only sort of stuff I'd be buying from yard sales anyway).
Our journey begins this past Saturday, where I made a pretty awesome find at a yard sale a stone's throw away from my house ...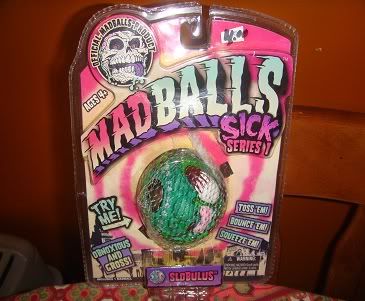 Abridged history lesson for the uninitiated :
One of the most glorious exports of the 80's gross out fad, Madballs were a hugely successful line of rubber monster balls that were given a multitude of spin-off merchandise, everything from a video game to an animated series, comic books to silly string. Oddly enough, the line was created by American Greetings, the popular company known the world over for their sappy, lovey dovey greeting cards. Go figure!
Madballs are near and dear to my heart because they came around at the perfect time for me to enjoy playing with them as a kid, and I have many fond memories of doing just that. I unfortunately have never been able to track down any of the ones I had from back then, hell we probably sold them to other kids at yard sales over the years, so I tend to pick replacements up whenever I can find them.
This little guy is from the 2007 Madballs revival line, a relaunch of both classic characters as well as new ones that saw the spawning of an all new sub-series called 'SICK', which is the variation of classic character Slobulus that I found laying amongst a pile of children's toys the other day. These particular variations have gross little goodies on the inside, which are forced to the outside when you squeeze them, through various different cavities in their pretty little heads.
Considering the fact that the household I found this at clearly had a couple kids in it, I was surprised to find this thing still in its package, in great shape aside from some sun fading which likely is the result of it sitting outside at many yard sales in the past. For only $4, I wasn't about to leave him at a home where he wasn't loved for a single second longer.
A mawfucka like this needs to be set free. And I'm happy to report that ole Slobulus has finally, after all these years, been set free from his little plastic meshy cage.
Don't let that face fool you. He's never been happier.
This is my only cool find of the weekend but hey, I've learned to appreciate even one treasure on any given yard saling adventure. It's not uncommon at all to come home completely empty handed!