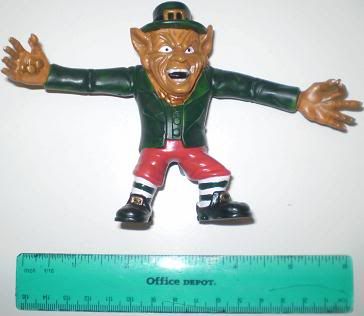 Just found out about this awesome bendy toy a couple weeks back, when I almost won it on eBay. I'd never actually seen one or even known of its existence before, so I was pretty sure I was going to pay whatever I had to pay in order to win it. Unfortunately, in the final seconds of the auction, a $31 bid was placed and I lost out. Was pretty bummed because I'm fairly convinced that I'll never see another one come along again.
In doing some research, I've gathered that the apparent origins of this bendy toy are that it was a mail away piece of swag that was attached to the original Leprechaun VHS release. I guess the tape came packaged with some kind of mail away certificate, which would nab you one of these. I'd imagine very few were actually produced, because I have never in my years of scouring the globe for cool promo shit seen one before.
Needless to say, if another one comes along, it will be mine ... by any means necessary.