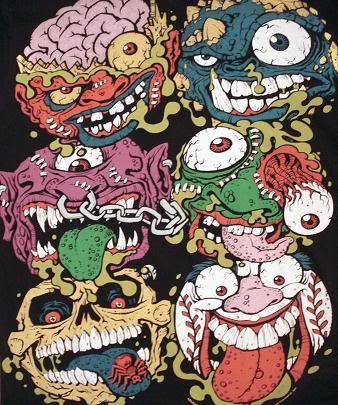 A few weeks back I made a post about a
Madball
I found at a local yard sale
. I've been a mega fan of
Madballs
since I was a kid and when I saw the reaction to that post, I realized that many of you share in that love for the little rubber gross out balls. Armed with this knowledge, I wanted to do something really special for all of you out there who love these things as much as I. Everything I do, I do it for you.
Soooo long story short, I ended up contacting a man by the name of James Groman, a toy designer who created many of the Madballs products, both during the early years as well as the revival run of 2006. Contacting him on Facebook led to an interview and that interview led to this, one of the most awesome posts I've ever had the pleasure of posting.
Enjoy. And you're welcome.
- What's the origin story of the Madballs and how did you get involved?
I have always heard that the origin of the Madballs concept came from some designers working on a new version of 'Hot Potato', and one of the guys drew a face on a potato. That led to the creation of a line of balls with ugly faces on them. I was brought in as a freelancer to design some of the later series, as well as a number of the action figures with the 'pop-off' heads. I was soon hired full time at American Greetings and the rest is toy-design history...
- Were there any designs that either you or other artists pitched that American Greetings didn't go for?
Yes, some were deemed 'too gross' believe it or not. One was 'Bullet Brain', a gangster with a head full of bullet holes. Another was Maggot Mouth, a character actually barfing up a mouthfull of maggots. And there was another that was a bit of violence against terrorists that was just not very P.C.
- You're being sent off to a deserted island and you can only take one Madball with you, as your only companion. Which one do you take, and why?
Hornhead or Blech Beard..because they are my favorite Madballs. Hornhead is based on the cyclops from 7th Voyage of Sinbad, (he lived on a desert island,...) and Blech Beard is a pirate, so he belongs on a desert island.
- I've heard rumors that at one point a Madballs movie was planned. Do you remember anything of the sort ever being discussed?

Yes, we had a pretty cool script written and shopped it around to some studios. I had heard a rumor that Bruce Campbell was interested in doing it...but I actually ran into him at a convention once, and he knew nothing about it...

I hope that some day we get a chance to make a real fun, gross horror comedy with the Madballs...perhaps some day. What do you think, Sy Fy-Chiller?
- At the 2008 Toy Fair, a toy called the 'Madballs Launcher' was unveiled, which was to be a gun that shot out eyeballs. To the best of my knowledge, it never actually made it to store shelves. Whatever happened with that?
We were working with a company called Basic Fun on that, and they decided not to do the launcher. They did some cool product for a short time, but they really did not seem to understand the marketing aspect of the property at all.
- Whenever I so much as mention Madballs on the blog, I get a ton of comments from readers sharing their fond memories of them. What do you think it is about these simple little rubber balls that has made them endure all these years?
The characters, and the fact that it was one of the very first 'Gross Toys' on the market back in the 1980's. Kind of started a trend. They were kind of rebellious in a way...carrying around something that got such a negative reaction from girls, teachers and most adults...made it like doing something naughty.
- It's been a few years since we've seen any new Madballs products hit the market. Can we expect more in the near future?
***
James wasn't at liberty to say much about this, but you can rest assured that the
Madballs
will soon be back, and better than ever!!***
- Aside from the Madballs, what's your personal favorite gross out toy from the 80's?
No particular toy comes to mind...but I LOVED the 'Dinosaurs Attacks' line of collectors cards that Topps put out around the same time. AWESOME!
- Are there any other toys us horror fans might've played with that you had a hand in designing?
Well, I did Madballs sister product line called 'Blurp Balls', I created and designed Barnyard Commandos, helped design Body Wars, My Pet Monster, Ring Raiders, Stretch Armstrong, Star Wars and Transformers toys. I sculpted model kits of Godzilla, The Mummy, The Creature from the Black Lagoon, Sleepy Hollow, Star Wars Rancor monster and Tauntaun...and a whole bunch of other action figures and model kits...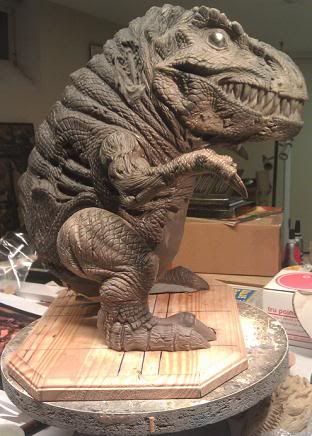 - What else are you up to these days? Where can we follow your latest and upcoming art projects?
Just did a 15 inch tall, zombie dinosaur sculpt for a company called Lullubell Toys that is currently at the factory. Any Madball fan is gonna LOVE IT! It is a rotting, mummified corpse of a Tyrannosaurus Rex, with skin, bones, muscle, slime and guts all hanging out. Oh, and did I mention he has an exposed stomach full of human skulls?

I am currently working on a comic book story to sell along with the toy. Have a couple other sculpts planned as well...so stay tuned!
__________________________________________

You heard it here first; all kinds of new Madballs goodies coming our way in 2013!!
Huge thanks to James for the awesome interview. You can follow his life and projects
over on his blog
, which he totally should've shamelessly promoted but didn't. And of course, you can keep track of all those nasty little
Madballs
over on the
Madballs official website
!