Couple weeks back I got a Facebook message from a man by the name of Luke, who is the owner of an Australian based special makeup FX and custom prop company called
LPFX
. An offshoot of that company is
Creepy Collectables
, created to bring those gruesome stylings into the homes of twisted folks like myself and my boy Jeff Dahmer, people who are completely comfortable with having human body parts laying around the house. Luke wondered if I would be up for perhaps reviewing something from the Creepy Collectables collection, and he even gave me the choice of which item I wanted him to send me. Long story short, there's now a framed severed finger hanging in my bathroom. I look at it every time I pee. And it makes me happy.
Before we take a look at this thing I just want to take a quick second here to convey how excited I was about the arrival of my severed finger. For reasons I'm not even sure of, though I'll blame my horrible diet, I was fairly sick this past Saturday, and spent most of the day with my head buried in the toilet, puking up stomach bile. As I was doing this, the mailman knocked on my door, a knock which went unanswered by me (after all, I was dropping mouth loads in the toilet). A minute or so later I heard him driving away from my house, and it was then that I realized he was probably knocking on the door because my severed finger had arrived, and I had to sign for it. I knew if I didn't chase him down, I'd have to wait until Monday for him to try again. So I picked my head up out of the toilet and chased him down. That's right, I ran down the street in my weakened state, held in a mouthful of vomit, and flagged down the mailman ... all so I wouldn't have to wait two more days to hang a severed human finger on my wall.
Yep, that was my weekend.
So, without further adieu, here's my newest prized possession, courtesy of Creepy Collectables!
I don't know if pictures could ever do it complete justice but I gotta say, this thing is absolutely beautiful. The finger itself looks incredibly lifelike, amazingly detailed right down to the hard nail and bloody stump. The shadow box frame is but the icing on the cake, made of real nailed together wood, stained and beat up the way any frame that's playing host to a severed finger should be. It's hard to see in the picture but against the backdrop is a little typed up rundown of the origins of the finger, which are stated as such...
APPENDAGE : FINGER (INDEX)
METHOD : SEVERED (DULL BLADE)
INCIDENT : POINTING AT A TROLL
Further details about the finger are revealed in a tattered and charred note from 'The Krypt Creature' that is included with it ...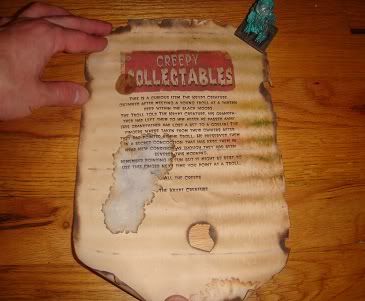 This is a curious item The Krypt Creature obtained after meeting a young troll at a tavern deep within the black woods.
The Troll told The Krypt Creature, his grandfather had left them to him after he passed away (His grandfather had lost a bet to a goblin). The fingers were taken from their owners after they had pointed at the Troll. He preserved them in a secret concoction that has kept them in near new condition as though they had been severed this morning.
And remember pointing is fun but it might be best to use this finger next time you point at a Troll.
Now the coolest thing about the frame is that there is no glass panel between it and the finger, allowing you to reach in and touch the appendage. I personally would've been kinda bummed if I couldn't touch it, and I'm happy to say its eerily rubbery and lifelike. And yes, I totally puked upon touching it for the first time. We can pretend that had nothing to do with the fact that I was already puking before getting it in the mail. It's cooler that way.
The frame also comes complete with a
hanger on the back
, so it can be easily hung wherever you might want to hang it, but it also can stand on its own, if you'd prefer to toss it on a shelf or your nightstand. How's that for versatility?
Like I said, mine currently hangs in the bathroom, in direct line of sight of anyone taking a whizz. Well, any guy at least. Girls sit down or something, don't they? Weirdos.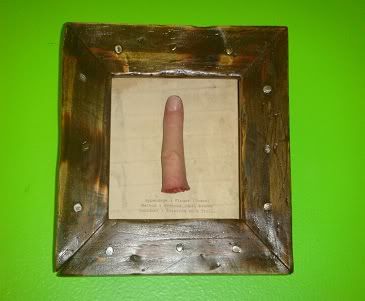 *CLICK FOR SUPER SIZE AND SUPER DETAIL*
In the past four years of blogging I've been sent a lot of handmade pieces and if I'm being honest, some of it just isn't very good. Paint is sometimes sticky and things just aren't always very professionally presented. It's just the nature of the handmade business, where you really don't know the quality of anything you're getting until you actually hold it in your own hands. Let's just say that pictures online can be deceiving. Kinda like the way McDonalds burgers look incredibly appetizing when you see them on TV, but are in actuality quite horrific in person.
Now the reason I say this is because I'm incredibly impressed by the quality and craftsmanship on display here from Creepy Collectables. It's quite clear to me that Luke really goes out of his way to deliver something special to his customers, which is something I have endless amounts of appreciation for. Too many companies out there are all too willing to take your hard earned money and send you a low quality hunk of junk in return. It's a sad truth. What we've got here from Creepy Collectables though is a true piece of morbid art, which I am very happy and proud to have hanging up in my house for all to see.
Because of Luke's customer care and attention to quality, I've gotta go ahead and slap the incredibly prestigious (but not really) Freddy In Space Seal Of Approval on Creepy Collectables. Based on this piece, I can pretty much assure you that anything ordered from there will be of the highest of quality, and well worth the cost. That's really what I set out to determine by seeing one of these up close and in person. The fact that I get to keep it is just an added bonus, one of the few real perks of being in the blogging game. So thank you so very much, Luke!
Head over to the
Creepy Collectables shop
to browse their cryptic and creepy housewares, including everything from severed ears to mummified heads to badass demon bookends. You can even get severed fingers that aren't confined to a frame, which I'd imagine you can have a whole lot of fun with. Wink wink, you sick bastard.