As a follow up to last April's post
10 Horror Action Figures That Never Saw The Light Of Day!
, here are a few more unproduced toys I've found in my recent travels, toys we will unfortunately never be able to own. Of course, that makes them infinitely cooler than they would be if they were readily available to us. After all, we always want most what we know we cannot have!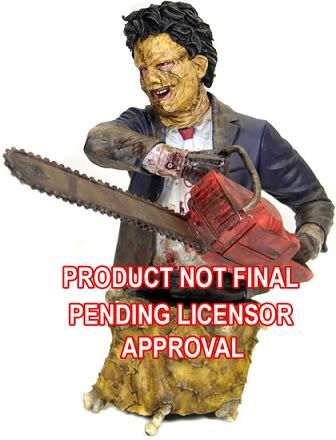 A few years back toy company Gentle Giant went bust crazy, producing mini busts of everyone from Jason Voorhees to one of the vicious 'crawlers' from
The Descent
. Though they did release a Leatherface
TCM 2
bust, which is still readily available, the image you see above was the original design for the statuette, which was
changed up quite a bit
before it actually saw release. So this is one of those situations where we got the toy, it just didn't look the same as it was originally supposed to.
Also from Gentle Giant, this Chop Top bust was unveiled at the 2007 Comic Con, before being dropped from the company's release schedule the following year. Though two slightly different variations of the bust had been glimpsed during the production stage, neither saw release. It doesn't appear to have been anything personal against ole Choppy though, as the bust was one of many planned figures from the time that Gentle Giant decided to scrap, presumably as a way of saving money. Thankfully, Mezco gave us a
Chop Top action figure
around the same time, part of their Cinema of Fear line. The likeness isn't as amazing, but it'll have to do!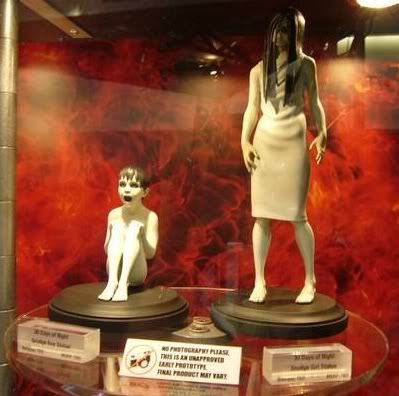 Hey look, it's another Gentle Giant statue that was unveiled at Comic Con in 2007 but then was never seen or heard from again! These are early prototypes that never made it past that stage. Kudos to whoever took this picture, despite the warning against it. If it weren't for that sneaky motherfucker, it's likely that there would've been no documentation of these ever even existing. Meowwwww.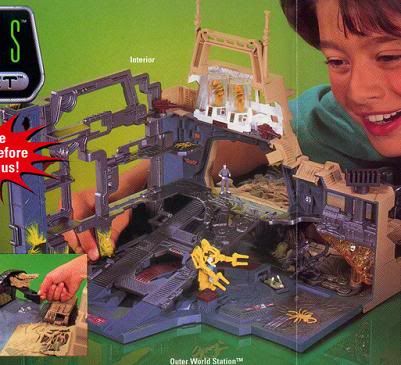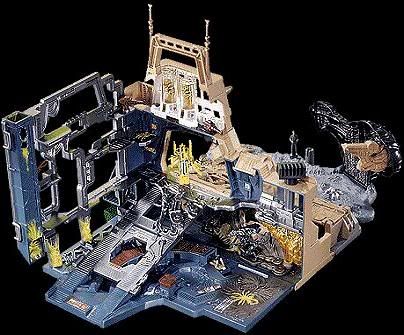 Kenner wasn't the only toy company to dip their toes into the
Aliens
pool. Galoob was all set to release this 'Outer World Station' playset, depicting the Xenomorph filled planet of LV-426, but the playset never made it to the market. After putting out a few different
Aliens inspired additions
to their popular Micro Machines line, Galoob's license for the film apparently ran out, instantly making this one of the coolest toys never made. You can see more images over at
AliensCollection.com
.