A few years back, DC Unlimited put out three 6+" porcelain True Blood busts, one of Sookie, one of Bill and one of Eric. Being a big True Blood fan as well as a big time toy collector, I've always kinda wanted 'em, but they've always kinda been too pricey for my tastes. Well wouldn't ya know, I just happened to stumbled upon them on Amazon earlier today and guess what? The Sookie and Bill busts are currently priced at a mere $15, $19.99 total once shipping is added!!


BUY ME, OR I'LL READ YOUR MIND AND ZAP YOU WITH MY MICROWAVE FINGERS!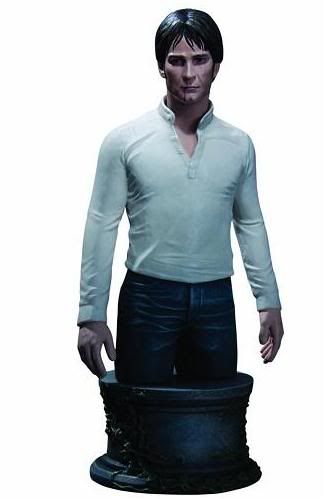 BUY ME, OR I'LL DRINK YOU! #IWIN
Unfortunately, the Eric bust seems to have become a bit rarer, with most places, including Amazon, not even stocking them any longer. Not sure if that means less of him were produced or that more folks are on Team Eric than Team Bill, but nevertheless I was pretty damn excited to see Sookie and Bill selling for such a low price, and I figured some of my fellow
True Blood
fans would want to jump on this!
I just picked up my very own Sookie and there are now only 14 of her left, and 16 of Bill, so hurry up and get on this if you're interested! The same busts are currently selling for double the price over in the
HBO shop
, so this be one hell of a damn fine deal!!