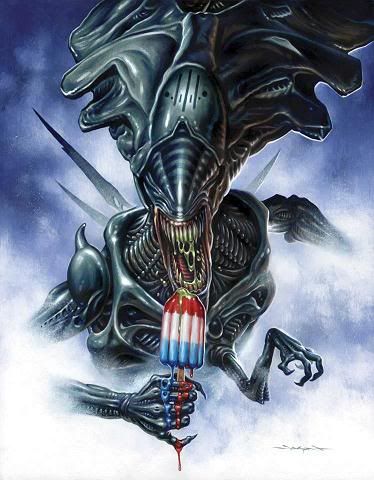 That beauty right there is the latest work of
Jason Edmiston
, an artist who continues to leave me jaw dangling between my legs with each new piece his superhuman artistic abilities allow him to create. In addition to his mind blowing art skills, Jason's also got a flair for coming up with some pretty damn clever and kickass ideas, as has perhaps never been more on display than with this piece. I mean come on, it's the motherfucking Xenomorph Queen eating a goddamn firecracker pop. Edmiston has just single-handedly debunked the
Killer Klowns
tagline ... I guess in space, you can eat ice cream afterall!
Unfortunately, the piece is an exclusive to this year's San Diego Comic Con, a limited edition run of 50 16"x20" prints that will only be sold at Alex Pardee's
Zero Friends
booth at the show. As in, if you can't make it to Comic Con, you're gonna have to troll eBay afterwards to try and find one. If you are gonna head to the nerd mecca, you can pick this bad boy up for 50 bucks. Grab one for me while you're at it, will ya?