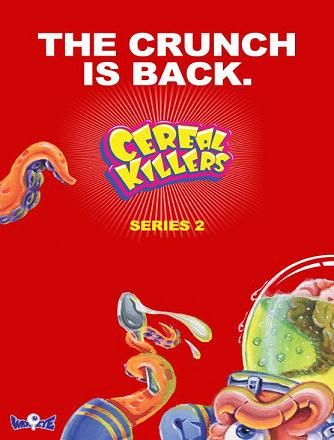 Just about a year ago, a company called Wax Eye released one of my personal favorite products to hit the market in some time; a series of trading cards dubbed
Cereal Killers
, a fusion of horror movies and breakfast that spoofed popular cereal brands by giving them a horrific twist. In the past year,
Cereal Killers
have begun popping up in Toys R Us' around the country, and some of the card designs were even released by
Fright Rags
as t-shirts. Now, Wax Eye is back with the long awaited second series of the trading card line, which just last week went up for grabs in their online shop.
Pretty awesome news, right? Well that good news is about to get even better...
Last year, right around the time Series 1 was released, Wax Eye was kind enough to send a full uncut sheet of the series my way, which I gave away right here on Freddy In Space. Now that Series 2 is out they have done the same thing, and I once again sit here about to gift one of you lucky readers with an incredible prize; a 40"x28" uncut sheet of the entire new series of
Cereal Killers
trading cards!!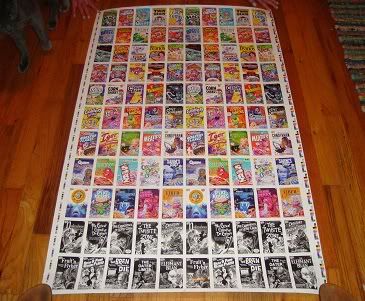 The sheet features every single card in the series (front and back), each one appearing twice, and is a super special giveaway prize because of the fact that you actually can't buy one of these in the Wax Eye shop. It's not something they sell, but rather a special gift they send out to retailers that buy several cases of the cards. Oh, the perks of reading Freddy In Space!
Now before we get to the giveaway details, let's take a quick look at what you can expect from Cereal Killers Series 2!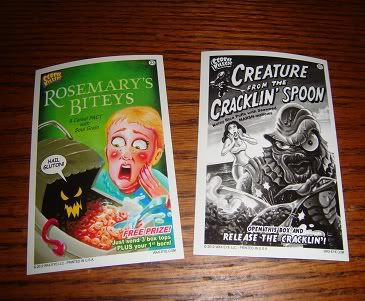 Wax Eye sent along a few boxes of the cards for my own personal collection and I gotta say, they really upped their game with this set, going above and beyond to make the second series even more awesome than the first. In addition to the base set, which includes such tasty treats as Tricks 'r Treat, Scream Of Wheat, Pet Semaberry Crunch, Candybran & Puffed Polterrice, the series also has a set of 10 black and white 'Classic Cinema' cards, homages to classic films and television shows like Plan 9 From Outer Space (Bran 9 From Outer Flakes) and The Outer Limits (The Oater Limits).

There are also a few different special insert cards, including 'Sugar Glitter' and Silver Spoon cards, the latter of which join together to form a foil super card. Also randomly inserted into packs are original hand drawn sketch cards and glow in the dark cards.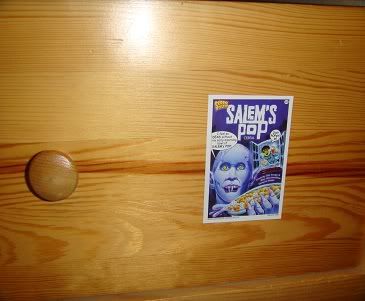 Just in case you don't know what a sticker stuck on something looks like...

Now one of the coolest things about the cards is that they all double as stickers, allowing you to stick your favorites wherever you'd like them. So if plain old cards bore you, that's a nice little touch.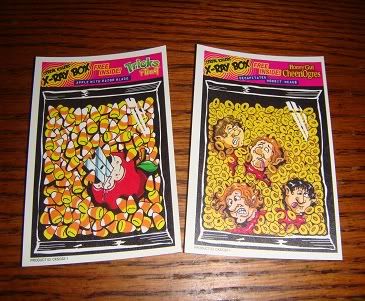 That said, the cards are far from boring, as Wax Eye has put a lot of work into not only the fronts but also the backs, with the coolest little touch being new "X-Ray Box" backs being added to select cards, which give you a peek inside the faux boxes of cereal. Gotta love it!

Point being, these cards are the shit, a nice little slice of 80's gross out awesomeness that I personally cannot get enough of. I just love the idea behind these and everything about them is so well executed, down to little details like the 'Eat 5 spoonfuls in front of a mirror for a special prize' blurb that appears on the Candybran card (Get it? Get it?!?). Trust me when I say that these Cereal Killers are so delicious that you'll be lapping up the milk left behind once you're done with 'em.

Now then. Onto the giveaway!!

To enter to win the full uncut sheet of Series 2 trading cards, simply come up with a creative and clever name for a faux cereal, based on a horror movie, and comment below with the name along with your e-mail address. The only requirement is that you don't use the name of one of the cards pictured in this post, though I won't fault you if you happen to come up with one that was used in Series 1. Provided of course you promise you didn't know!
Deadline for entries is next Monday, July 16th. Good luck to all and thanks once again to Wax Eye for the incredible prize!
If you'd rather buy
Cereal Killers
cards in their cut form, you can buy individual packs, boxes and even cases over at
Wax Eye
. I recommend you do. HIGHLY!