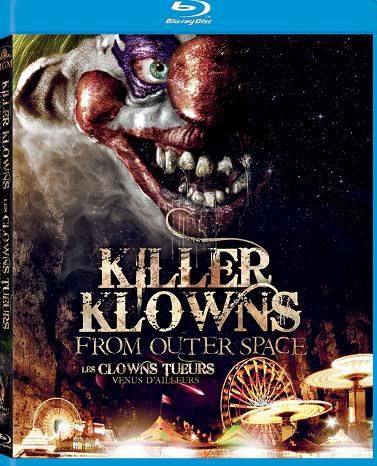 On September 11th of this year, the Canadian
Killer Klowns From Outer Space
Blu-ray will see release, the first time the film has ever been released in high definition. This is awesome news not only for you mother canuckers out there, but also for myself and my fellow Americans, because Canadian and US releases are both coded as Region 1, meaning that this disc will play in all PS3's and American Blu-ray players. I think my popcorn gun just fired off a few rounds... if ya know what I'm sayin'.
Now. The cover art. I both love and hate it. I love it because it looks pretty damn cool. And I hate it because it really doesn't reflect the fun and campy tone of the movie. At all. This looks like the kind of art you'd expect to see on a really dark killer clown movie, rather than goddamn Killer Klowns From Outer Space, so I'm really torn on this one. Would've much preferred a more cartoony original piece of art to have been whipped up for the release, rather than this Photoshop job. But who the hell cares? The Killer Klowns are coming to Blu-ray and that's quite frankly all that matters here!!
The disc is currently available for pre-order on Amazon for 11.99 in Canadian dollars, which translates to about the same in American dollars ($11.82). So come along with me and
pre-order your copy
right this instant!!