You've probably noticed a whole lot of different posts about the Alien franchise here on Freddy In Space lately, whereas there had never been too many in the past. It's kinda funny because it wasn't until Prometheus came around that I realized how much of a fan of the series I am, which has as much to do with me finally going back and re-watching Alien for the first time in many years as it does actually seeing the pseudo prequel. I just love the whole mythology of the Alien universe, and I am totally fascinated by those acid bleeding Xenomorphs. My fascination with any given movie is usually best expressed through collecting things based on that movie and since there's literally an endless supply of merchandising that has spawned from the Alien film series, I've kinda made it a little mission of mine to amass a seriously kickass Alien swag collection, which has taken shape quite nicely over the course of the last few weeks.
Now when it comes to
Alien
merchandise, one's collection would simply not be complete without at least some of the many action figures that Kenner put out back in the early 90's, based on
Aliens
. The line of action figures and playsets was very kid friendly and colorful, not exactly reflective of the R rated adult film that they were spawned from. I've always wondered about that and I've also always wondered why the hell Kenner decided to jump on the
Aliens
bandwagon several years after the film was released (back in 1986). I always just assumed that the toys were geared towards kids because of the whole
Kenner Alien debacle
back in '79, but it wasn't until recently that I uncovered the truth ...
To make a long story short, some crazy sumbitch over at Fox decided in the early 90's to turn
Aliens
into an animated television series, featuring Ripley, Bishop and oodles of colorful Xenomorphs. Titled
Operation : Aliens
, the pilot episode was apparently filmed but the show was ultimately dropped, and no footage from it has ever been seen.

How this ties into the Kenner line is that the Kenner action figures were actually based on the planned Operation : Aliens animated series, which is why they look so cartoony and not like the characters from the actual film. From what I gather, the whole Kenner line was originally going to have the Operation : Aliens logo on the packaging, but since they were put out shortly after the idea was scrapped, the name on the packaging was changed to, simply, 'Aliens'. Pretty wild, eh?
Now the cool thing here is that a few pieces of merchandise did end up hitting the market before the animated series was cancelled, so there are a few toys out there that do have the Operation : Aliens logo branded on them, including puzzles, posters and even a board game. Naturally, I have become obsessed with those few products that do have that name on them, and I've set out on a search and rescue mission to find them and make them a part of my collection.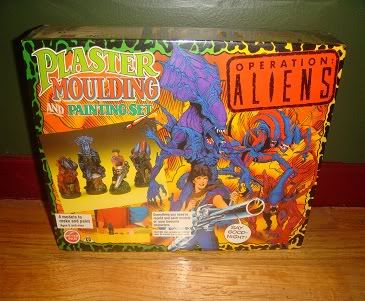 So then. The latest addition to my Alien collection is this here Operation : Aliens Plaster Moulding & Painting Set, which I recently scored on eBay for a mere 20 bucks (plus around 10 bucks shipping). It's mint in the package and I'm of course going to keep it that way, though the idea here is that you can make and paint four different little models, including Ripley and a couple different Xenomorphs. I have no idea how much these things generally sell for, being that I had never even seen one until last week, but I'd imagine I got a pretty good deal on it considering Operation : Aliens merch isn't exactly easy to come by. I was surprised to find that the seller had listed the same auction about 10 times prior, with no one ever placing a bid on it. As a result, he lowered the price each time. I can only imagine the lack of bidding came from the fact that nobody ever searches the keywords "Operation : Aliens", being that most people don't seem to have any clue about the little animated series that almost was!
Here's a shot of my whole Alien collection so far ...
See that watch hanging on the wall? I got that at a convention earlier this year and it wasn't until I made this whole animated series discovery that I realized it is in fact branded with the Operation : Aliens logo, though it's kinda hidden behind the watch. Too cool!
I'll leave you with several shots from the Operation : Aliens cartoon, which are either from the opening intro or from an episode that was filmed but never seen. This is sadly the closest we're likely ever going to come to seeing what that series could've been like!!