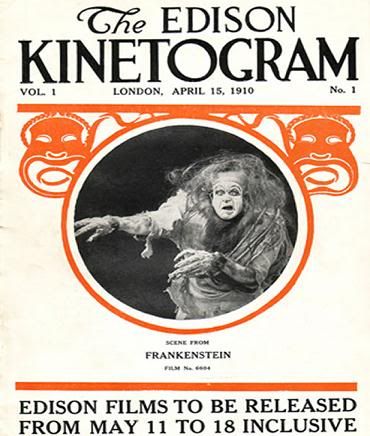 We're gonna get a little historical here on Freddy In Space today, with the most vintage Vintage Video Of The Week that has ever been Vintage Video Of The Week'd. So come with me as I hit the mute button on the color controller and head way way back in the Freddy In Space time machine ... ALL THE WAY BACK TO 1910!!
Though Universal's 1931 adaptation of Mary Shelley's Frankenstein is the most well known film based on the book, did you know that Karloff was actually not the first person to play Frankenstein's monster? Over 30 years prior, in 1910, Edison Studios (a production company founded by none other than Thomas Edison) made their own Frankenstein, the very first adaptation of the book ever filmed. Written and directed by J. Searle Dawley and starring Charles Ogle as 'the monster', the film was shot in three days at Edison Studios in New York City and ran just shy of 13 minutes.
Though all prints of the film were for several decades thought to be forever lost, with still shots the only things remaining from the production, an original nitrate print of Edison's Frankenstein was discovered in Wisconsin in the 1950's by a film collector named Alois F. Dettlaff. It wasn't until the mid-70's that Dettlaff even realized what he was in possession of, at which point he released his find to the public.
In the years since, the film has become part of the public domain, making it totally legal for anyone to release or upload it to the internet. Thankfully, people have done just that, giving us all the opportunity to see the very first Frankenstein film ever made. Today, we gather together and watch that history making film, a super creepy adaptation of the classic tale that was made over 100 years ago.
Enjoy!
The first film adaptation of Bram Stoker's Dracula was also made well before Universal got around to doing it. Made in 1921 in Hungary, titled Dracula's Death, that film is however currently thought to be lost. Here's to hoping it someday turns up, just like ole Frank did!