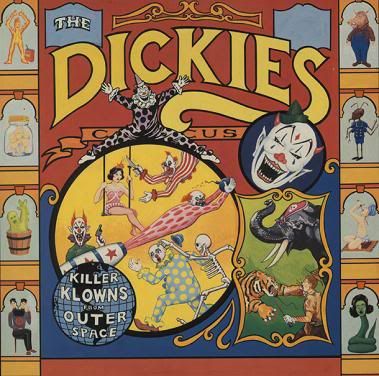 There are many things that make Killer Klowns From Outer Space one of my favorite movies of all time. One of the biggest of those things is the score, which is topped off by a theme song that is as iconic as any of the imagery in the film. California based punk band The Dickies were brought in to add an additional layer of awesomeness to the proceedings and they delivered big time, writing and performing a theme song as memorable and loveable as the movie itself. The 80's saw many fusions of rock and horror, and the Killer Klowns/Dickies tag team ranks right up there with Dokken's Dream Warriors and Alice Cooper's He's Back (The Man Behind The Mask) as one of the happiest marriages of the two. No wonder so many people still to this day cannot let go of that most glorious of decades!
In addition to putting out a five track album titled Killer Klowns From Outer Space in the same year the film came out (1988), The Dickies actually also cut together a music video for the theme song, which was titled Killer Klowns. Inter-cut with clips from the film, the video also featured brand new footage of the Killer Klowns, interacting with the band and eventually taking the stage themselves.
We now sit back and enjoy the full video, which comes to us courtesy of the original VHS release of the film. The video was tacked on to the end of the movie on VHS, and has sadly not yet been included on any subsequent release of the film. Enjoy this week's Vintage Video Of The Week!!