This past Saturday marked the second time in my life that I've stumbled upon an absolute goldmine of a yard sale. At best you usually find one gem hidden amongst a pile of trash, but every so often you find that one yard sale that just has endless amounts of stuff you want to make your own. A few years back I came across one that was being run by a woman who used to own a video shop, and her lawn was absolutely littered with horror VHS tapes, several of which were very rare and valuable. I must say, this past weekend's treasure trove ranks right up there with that one!
Now I say I stumbled upon this one, but that's not exactly the truth. This particular yard sale was being run by a guy who comes into my job nearly every day, who is a big time lifelong horror fan. Needless to say, he and I have become friendly over the years, and when he told me he was going to be selling a bunch of his stuff at his friend's house this past weekend, I knew I had to make a trip over there. It didn't hurt that his friend's house was a stone's throw away from my own!
What I found on his friend's lawn were a slew of vintage monster toys from the 80's onward, everything from stuff I had never before seen to stuff I had poked around on eBay for several times in the past. It was pure dirty old toy heaven. A mere $20 later, here's all the swag I ended up bringing from his home into my own!
These 'Stretch Screamers' were put out by a company called Manley's Toy Quest in 2001, which I know only because I just looked them up. I had actually never seen these before, and the guy had another five or six that I'm kinda kicking myself for not picking up. It's not that they're really worth much or anything, but these Stretch Armstrong style monsters are totally awesome, able to stand on their own and scream out when you beat them up. Coolest of all, each one has a gross fluid filled bubble inside of it, that pops out when you squeeze a certain part of its head or torso. Like so ...

I'll be honest that I'm a little disappointed that these aren't from the 80's, as I had assumed they were when I bought them, but I still love them and will likely be contacting the dude so I can take the rest off his hands!

This is another little gem from the 2000's that I also thought was from much earlier on, until I just looked it up. Boo hoo. It's the 'Mad Lab Monster Surgery' game put out by MGA Entertainment in 2002. Ole Frank's missing some facial parts and the game no longer works (even with new batteries put in), but it's a pretty cool little display piece nonetheless. I guess how it worked was that you flipped the old school style switch on the base, and you were able to play three different games with the head, which were Operation style in their execution. Pull out the right pieces and win. Pull out the wrong ones and lose. That sorta thing. Kinda tempted to buy one that works because I want to play with it!
As I've mentioned, I recently started collecting old school Alien merch, so I was happy to see these two Kenner Aliens toys in a bin full of vintage treasures. That's 'Bull Alien' on the right and ' Gorilla Alien' on the left. The idea of the line, based on a proposed Aliens animated series, was that the Xenomorphs could use animals as their hosts, which would give birth in the end to hybrids between the two. Thus, Xenomorphs that look like bulls and gorillas. Kinda lame, but I've always had a special place in my heart for that line!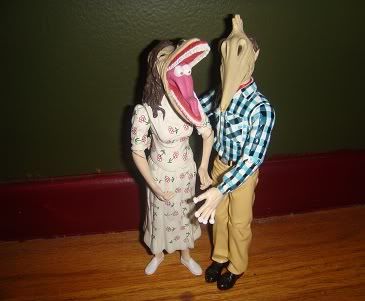 Picked these NECA Beetlejuice toys up for Jen. Apparently 'Stretched Face Barbara' is pretty rare these days, as it was an exclusive to a select few stores. So these were pretty good finds. He also had Beetlejuice from the same line, but unfortunately his arms were missing.
And finally, this right here is a Boglin, one of the coolest exports of the rubber monster phase of the 1980's. I have always wanted one of these, and I am so very happy to now finally own one. These things are incredibly valuable if they're still in the package, which resembled a little mini cage, but perhaps even cooler outside the package. Why? Because you can puppet them with your hand, and even move around the eyeballs through a little animatronic contraption inside the head. What I love about these is that they almost look and feel like they're actual props that were used in 80's monster movies, which is a real testament to how well made they were. Love these things so so much.

One of the holy grails of vintage toys for me are the
Halloween editions
of these that were put out back in the day, one that was painted like a pumpkin and another like a skeleton. Those sell for a pretty penny when you can find them on eBay, but I hope to someday be able to afford one!
After a solid drought of over a month without finding anything worthwhile at yard sales this summer, this one needless to say reminded me why I love getting out there and digging through other people's trash. This particular yard sale ranks up there as one of the best I've ever been to, and I've truly never been so happy to have my room reek of dirty old toys. This is why I love yard sale season, folks. Make the most of it and get out there and hunt!! Ya truly never know what ya might find.